OS X 10.8.4 beta code hints at 802.11ac WiFi in upcoming Macs

It's inevitable that Apple is going to release new Mac models at some point this year, particularly new MacBooks, since the iMacs just received a recent refresh. On the software end, Apple recently seeded the second beta version of OS X 10.8.4 Mountain Lion to developers, and the code inside of the operating system hint at the possibility of 802.11ac WiFi for new Mac models sometime this year.
According to 9to5Mac, a developer testing out the beta operating system spotted the code in OS X 10.8.4, specifically in the WiFi-frameworks folder deep within the file system. The code clearly reads "802.11ac" and it's a line of code that is not found in OS X 10.8.3, which is the latest version of OS X that's currently available to the public.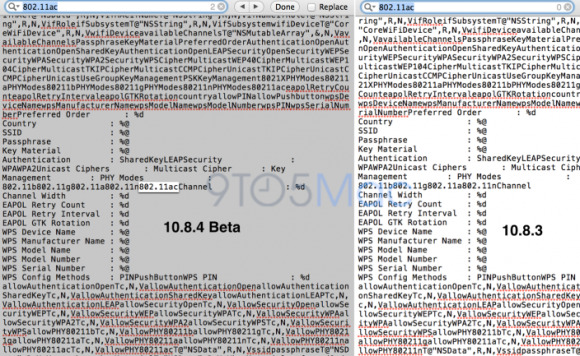 If you're not too familiar with 802.11ac wireless, it's essentially the successor to 802.11n, which is the latest and fastest network protocol to be certified. We've seen a few routers with 802.11ac on board, but it has yet to be certified, so we probably won't be seeing a crop of 802.11ac products pop up just yet.
However, we'll definitely see 802.11ac sprout up more and more in the near future, but we certainly wouldn't be surprised if Apple waited a bit to implement it into their Macs. Sure, it may be in the code itself, but it's possible that Apple won't enable it in the next batch of MacBooks right away. However, we've heard in the past that Apple is partnering up with Broadcom to bring the new protocol to Macs this year.
[via 9to5Mac]