Originatic Smart-Leaf wall-mounted touchscreen PC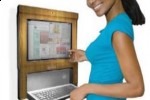 Originatic will be launching their wall-mounted Smart-Leaf PC at CES next week, a space-saving design intended to offer internet access and other functionality to occasional users.  The all-in-one PC has a rugged build with fold-out, spill-proof keyboard, touchscreen and WiFi, together with options like a TV tuner.  Plus, as you can see from this picture, just one touch makes ladies very happy.
The Smart-Leaf debuted at CES 2008 as a concept; it seems that Originatic have been doing some market research since then.  Both home and business users are being targeted, with Originatic believing the former want an "out of the way" machine for kitchens while the latter desire "cost-effective, space efficient" alternatives to the usual information kiosks.
Two models will be unveiled at CES 2009 next week, the Smart-Leaf Oasis and Mountain, both of which will be for available this month and begin shipping in March.  The Oasis is intended for the home, and has a webcam, touchscreen, fold-out keyboard with trackpad, TV tuner and WiFi; the Mountain is intended for business use, with much of the same features (though no TV tuner) as well as a keyboard lock and trackball.  No word on pricing or specifications.
Press Release:
Originatic to Release the Smart-Leaf

Originatic LLC announced today, its upcoming release of the Smart-Leaf, an innovative, wall-mountable

all-in-one computer. The Smart-Leaf will be released at the Consumer Electronic Show in Las Vegas

on January 8, 2009.

At last year's CES, Originatic unveiled its prototype of the Smart-Leaf, followed by design

enhancements and positive reaction from market testing. Smart-Leaf Oasis and Mountain models will

be available for ordering in January with first shipments scheduled for March.

The Smart-Leaf features both wall and desk modes, an

integrated, fold-out keyboard, and a flare for style. In the

wall mode, the Smart-Leaf provides 'on the fly' access to

information. Originatic incorporated a suite of features into

the Smart-Leaf to maximize durability and ease of use, such

as touch screen, scratch resistance, spill-proofing, TV tuner,

and power lock, all packaged in a unitary form with a slim

profile.

The Smart-Leaf was designed with an aim to make life and

work easier for today's high-paced demands for connectivity

in homes and businesses. Originatic's market testing

indicates that the Smart-Leaf will resonate well with home

users looking for convenient, 'out of the way' computer

access in kitchens and other areas of the home. For

businesses, the Smart-Leaf provides a cost-effective, space

efficient alternative to traditional kiosks.

According to Reno Smith, Originatic's Chairman, "We have had a strong response to the Smart-Leaf

from both consumers and businesses. The Smart-Leaf appeals to consumers because it provides

computer access in high traffic areas, like the kitchen, without taking up counter space. The Smart-

Leaf enables businesses to deliver solutions to customers and employees in places previously

considered too crowded."

For more information, visit www.smart-leaf.com.

About Originatic LLC

Originatic LLC is engaged in the ongoing invention, development, and commercialization of new and

patentable technologies to meet the needs and desires of consumers, businesses, and markets around

the world. Originatic is a limited liability company, headquartered in Chicago, Illinois.