Original ALIEN cast speaks on "Isolation" game experience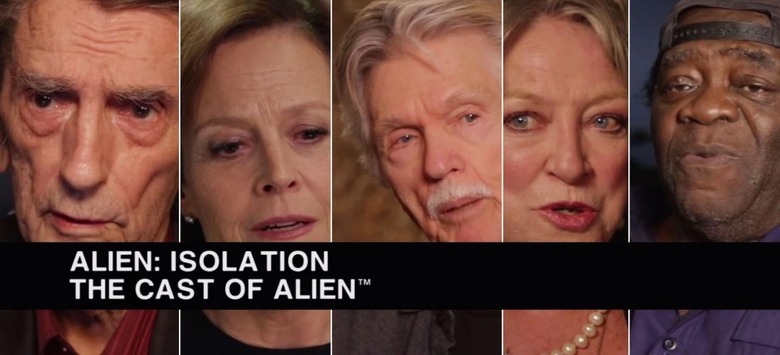 At the dawn of SDCC we're seeing a set of short interviews – that may turn into long interviews – of the original ALIEN cast for the game Alien: Isolation. As we learned earlier this month, there's a segment of the game in which the original cast returns, voices, likenesses and all. To add an additional dash of legitimacy to this venture, the cast has been brought in to speak of the power of video games.
Unlike the original ALIEN film, this game drops you in the driver's seat. Instead of being pulled in by a film that you can "walk away [from]", as Yaphet Kotto ("Parker" from the original film) says, a video game makes certain "you're there, you're married into it."
"To be immersed in this world" says Sigourney Weaver, is what "we all want." That's what the creators of this game have given us – so says Ripley.
The bit that this crew is taking part in – hopefully not the only bit – is a pre-order bonus called The Nostromo Edition. This bonus content will be arriving on October 7th, 2014 along with the regular game, and will allow you to play as Ellen Ripley, Dallas, or Parker in a mission called "Crew Expendable."
Don't get eaten. Stick around with @SlashGearGaming for more information and our first review when the time comes.