Orange Libon app pushes HD voice (since other carriers don't seem to care)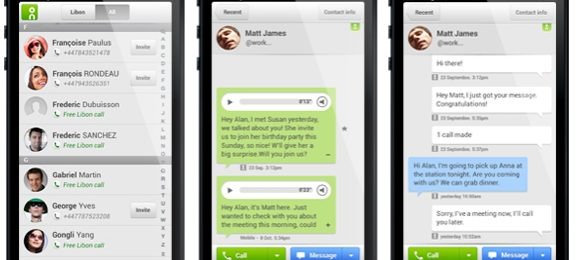 Orange has launched Libon for iOS, pushing HD voice calls via app after apparently getting impatient for all other networks to implement the better quality audio. The free download – which will work on all carriers, and is headed to Android in early Q1 2013 – supports HD calls between Libon users over a 3G or WiFi connection, as well as personalized voicemail and voice-to-text transcription of messages.
Libon allows users to set up multiple voicemail greeting messages, which can automatically recognize different callers by their phone number. The app sorts contacts into groups, and if you particularly trust one group you can allow them to see your current location and even be read out a recent Twitter or Facebook status update.
There's also instant messaging, and a dedicated contacts book with cloud backup in case you lose your phone. The free version of the app includes support for three contacts/contacts groups, whereas the premium upgrade – available in 95 countries – supports unlimited groups, full-length voicemail transcription in English, French, and Spanish, and email copies of voicemails.
Premium – a £1.99 in-app purchase - also includes an hour per month of international calling, to landlines or mobile numbers, in 31 countries. There's also the option of prerecorded "funny" voicemails at £0.69 a go.
You can download Libon for iOS here [iTunes link]; it'll work on iPhone, iPod touch, and iPad, though so far there's no iPad-specific version.