Optimus Pultius: add an OLED keypad to your regular keyboard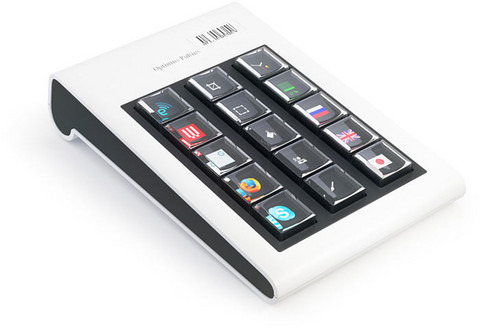 Optimus have announced a new upcoming product, the Pultius, which is intended to be an addition rather than a replacement to your normal keyboard.  Consisting of fifteen OLED keys similar in layout to that of a numeric keypad, it could be used for triggering programmes, websites or even macros for gaming or art apps.
On the back there's the same ports as the Maximus (i.e. it requires a separate power supply) except for a single USB connection rather than the full keyboard's two.  This could potentially be used for daisy-chaining more than one Pultius together, though the practicality of that would depend on exactly what Optimus charged for the device.  Considering reviews of the Maximus suggested that its keys were perhaps too stiff to be used comfortably for regular typing, Pultius could be the ideal compromise.
The Optimus Pultius should be available either at the end of 2008 or the beginning of 2009.  Optimus are yet to reveal pricing.