Optimus Aux Renders: Size, Key Tweaks And Port Changes Detailed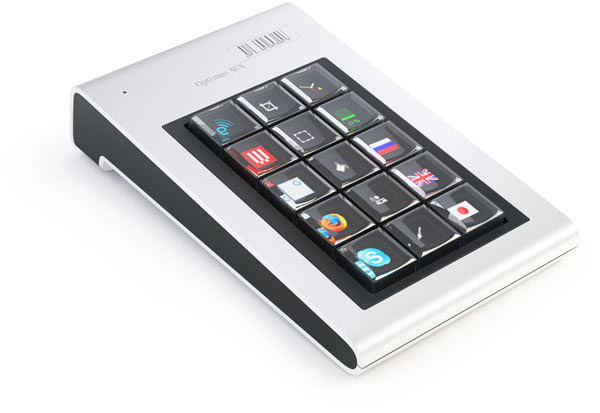 Two Optimus posts in one day almost smacks of Maximus hype, but it's Friday and we do have some slick new renders of the recently-christened Aux.  Optimus have tweaked the design from its initial, Pultius form: gone are the odd gaps between the columns, and an extra USB port has been added to the back.  Optimus originally suggested that the USB could be used to daisy-chain multiple keypads together.
Otherwise it's the same Aux as we saw before, with fifteen OLED keys that can be mapped to specific apps, specific key-presses, shortcuts or macros.  As the render suggests, an Aux added to your normal keyboard could give shortcuts to websites, different language layouts and frequently-used tools in graphics programmes such as Photoshop.
The rear of the Aux now has a single upstream USB port, two downstream USB ports (for plugging in your keyboard, mouse, another Aux or a memory key, perhaps) and the power socket.  There's also a Kensington lock hole for making sure the Aux doesn't go missing from your desk.  Still no word on price or availability, though initial rumors indicated a release either at the end of 2008 or the beginning of 2009.