Opportunity Mars rover's watch is ended [UPDATE: NASA now live]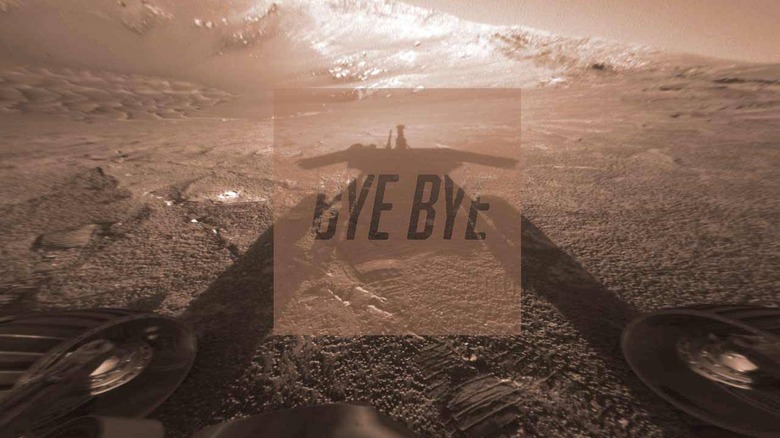 NASA's Opportunity Rover mission's craft has spoken its last, and after 5,352 days on Mars, its watch is ended. NASA's Administrator Jim Bridenstine and Thomas Zurbuchen, NASA science division chief, are expected to hold a conference at 2PM Eastern Time on Wednesday, February 13th, 2019, to make this announcement official. The day this rover died will be Sol 5352 (Martian solar days in operation), after 15 years and 20 days in service, having started roving on January 25th, 2004.
As mentioned by ArsTechnica's Eric Berger, Facebook wasn't even around back then – not for another month, and YouTube didn't open its digital doors for another year. One massive amount of stuff's gone on since this rover started roving.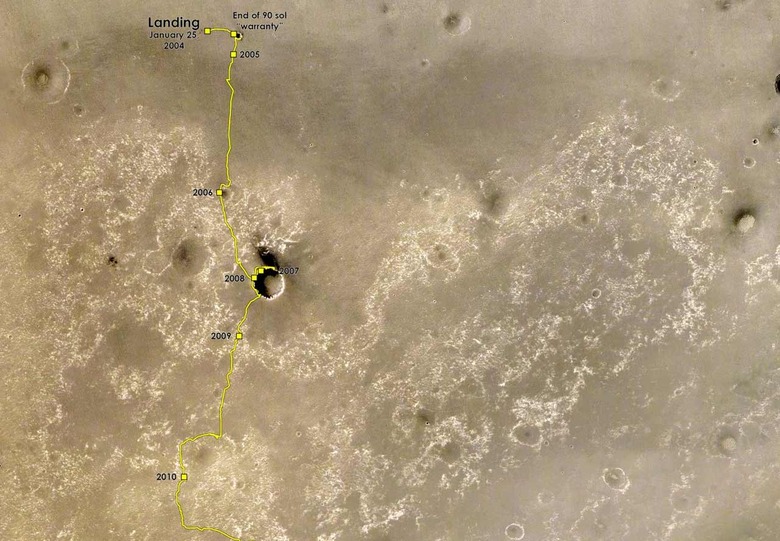 ABOVE and BELOW you'll see the full mapped-out path of the Mars Opportunity rover as it traveled WELL past its original planned mission trek. This mission is now the longest-lasting and furthest-distance ever traveled by a mission on a planet other than our own.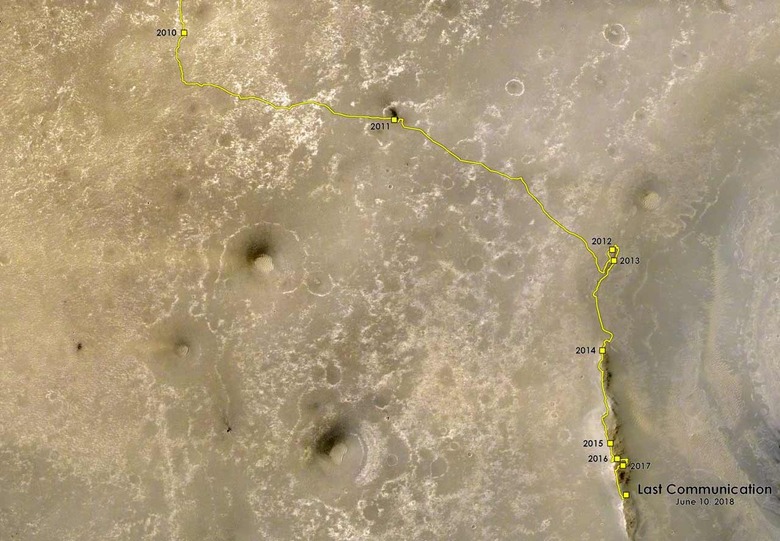 While most people didn't even own their first smartphone back in January of 2004, NASA'd sent a remote-controlled vehicle to Mars. While it'd be three years before the iPhone was first revealed, NASA already had two rovers in operation on a planet 54.6-million kilometers (33.92-million miles) away from our own Earth.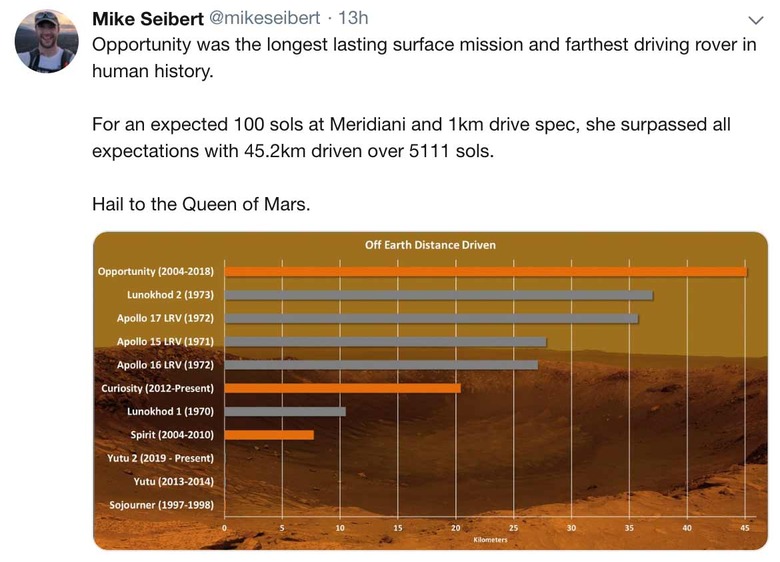 Opportunity's best buddy and Mars co-explorer was the NASA Spirit rover (aka MER-A, Mars Exploration Rover – A). Spirit landed January 4th, 2004, and lasted 2623 sols, or 2695 Earth days, from landing to mission end. That's 6 years, 9 months, 12 days in total, ending on March 22nd, 2010.
Both Spirit and Opportunity were meant to be 90-sol missions. Both rovers traveled multiple times their expected – or planned – lifespan. The dust storms of 2018 on Mars made Opportunity seek hibernation mode on June 12th, 2018. It was hoped that a windy season could change the fortunes of the rover, but alas, it is now lost to the dunes.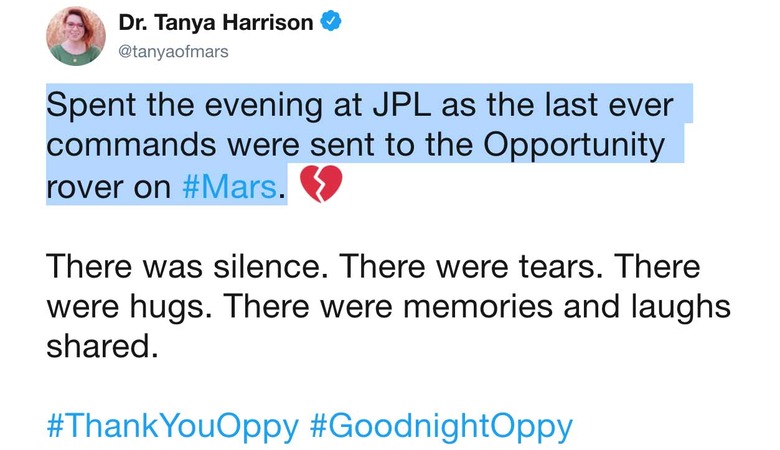 Below you'll see several photos shared by Dr. Tanya Harrison, ops team for Mars Rovers, Mars Curiosity, and the Mars Reconnaissance Orbiter.
If you'd like to view all 228,771 raw images (or more, since at this point this archive reached SOL 5111), head over to this giant archive at NASA. They've got imagery from the engineering cameras, science cameras, entry, descent, and landing images too.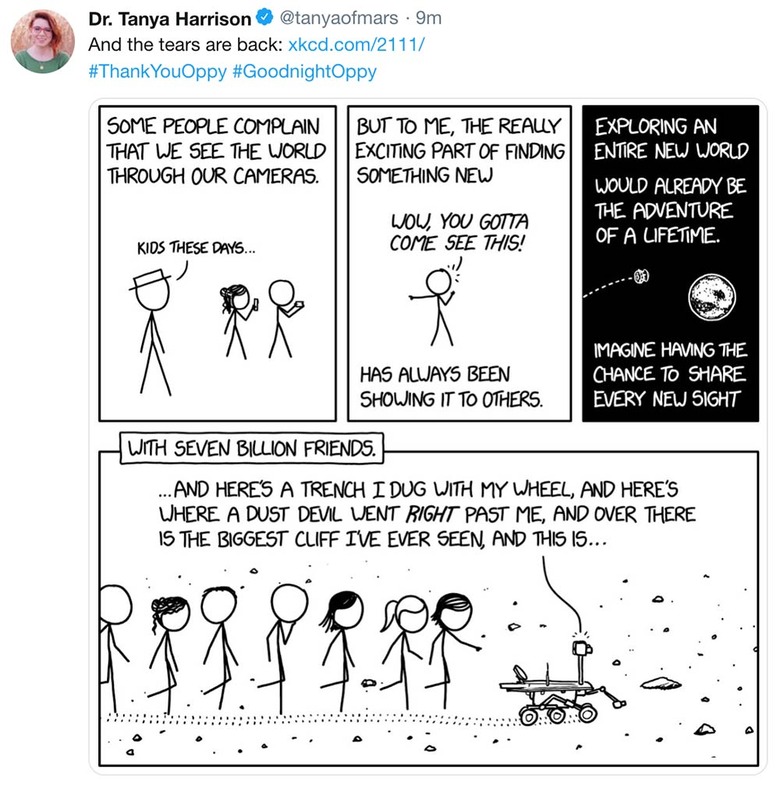 On that note, above you'll see a comic shared by Dr. Harrison. This is the latest XKCD strip posted in loving memory of the good times. Stay tuned as we continue to watch for the rest of the data sent by Opportunity that has yet to be analyzed – this gift doesn't stop giving any time soon!
UPDATE: Above you'll see the live feed from NASA JPL of announcements of the end of the Opportunity mission and on future endeavors. This will be live on February 13, 2019 at 11AM PT, 1PM Central, 2PM ET.