Oppo F1 Plus special edition celebrates FC Barcelona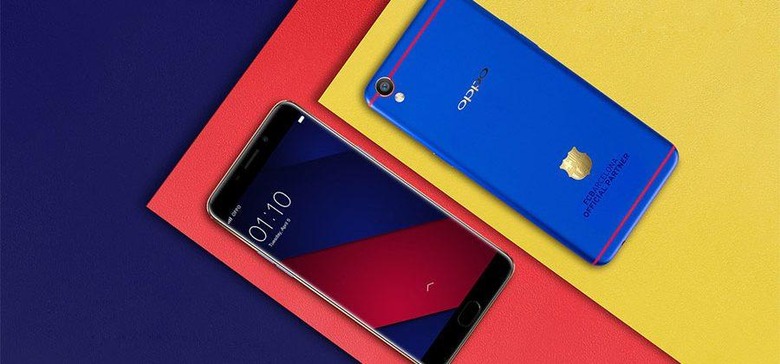 Oppo has a partnership in place with a professional soccer team (football for our European friends) called FC Barcelona. To celebrate this partnership, Oppo has unveiled a very cool looking special edition of the F1 Plus smartphone that uses the Barca Livery that players on FC Barcelona wear. The smartphone is blue and red with the club insignia in 18k gold plate.
The smartphone also runs a custom FC Barcelona theme. Other than the custom color and theme, the F1 Plus is the same under the hood as standard models. That means it has a 5.5-inch FHD display, 2GHz MediaTek Helio P10 SoC, 4GB of RAM, 64GB of storage, 13MP camera, and 16MP front camera. Power comes from a 2850 mAh internal battery.
"The F1 Plus is all about snappiness, style and speed, so there's no better partner for it than the phenomenal FC Barcelona. We're proud to bring users one of our most eye-catching devices ever, while paying tribute to the world's greatest football club," said Sky Li, VP of Oppo and Managing Director of International Mobile Business. Oppo also ships the special edition smartphone in a case that has laser printed signatures of five of the players from the team on the inside.
Putting laser printed names on the inside of a case meant to be on the smartphone at all times is very strange. Fans that use the case will only see the names the first time they pull the case out of the box. It's a shame to cover the beautiful blue color with the case, but I guess that is better than dropping your fancy smartphone and breaking it. The phone will launch in mid-June in China, Singapore, and Indonesia along with other select markets. One would assume that Spain will be one of the select markets, but that isn't clear. Pricing will be announced closer to launch.
SOURCE: AndroidCentral