Opera's battery saver goes public, new mobile concept coming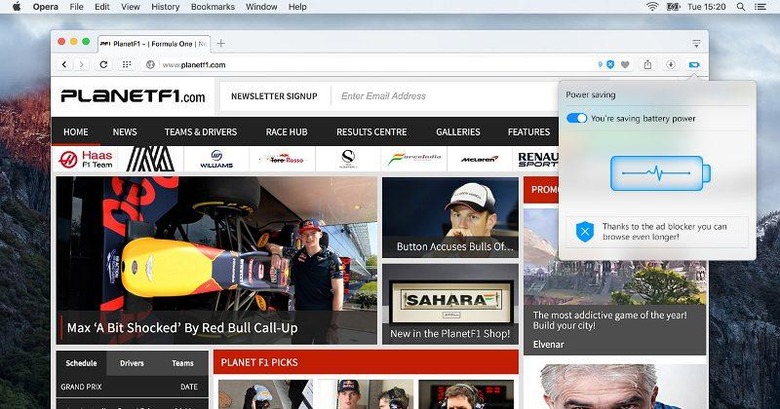 Smartphones aren't the only ones in dire need of sometimes drastic battery saving features. Even laptops, with their significantly larger batteries, need some power saving loving. That's why when Opera announced that it had a new built-in browser feature that promised to give back 50% more battery life, there was understandably a good amount of interest. Now you can verify that for yourself as Opera just launched version 38 of its desktop web browser that bakes in this battery saver feature.
It might be a rather big promise to make considering how a web browser is only one software in a desktop operating system. But given user habits these days, it is most likely also the biggest battery drain, from browser plugins to videos to wayward Javascript programs. So it does make some sense that if you want to cut down on your battery use, you'd have to cut down on the web browser's resource usage.
That is precisely what the battery saver feature does. In a nutshell, Opera lists these actions that happen whenever the feature is turned on:
• Reducing activity in background tabs
• Waking CPU less often due to optimal scheduling of JavaScript timers
• Automatically pausing unused plug-ins
• Reducing frame rate to 30 frames per second
• Tuning video-playback parameters and forcing usage of hardware accelerated video codecs
• Pausing animations of browser themes
• Including ad blocker – when enabled, it enables even more battery savings
To prove that it isn't just all talk, Opera also demonstrates this feature at work in a video test of its own:
And now you don't even have to take Opera's word for it as Opera 38 is now available for everyone to try out and, as Opera would hope, use for good. The new version also introduces the ability to add your own block lists and adding your own photo to your own theme.
Opera's fans on Android need not feel too left out. Although this feature isn't coming yet, Opera reveals it is working on something new for mobile. It is looking for users in the US to test out its new Opera browser that delivers personalized news based on user interests and preferences. The browser also more properly follows Google's Material Design guidelines. No word, however, on when it plans to make it public.