Opera Mini on Android updated with data saving modes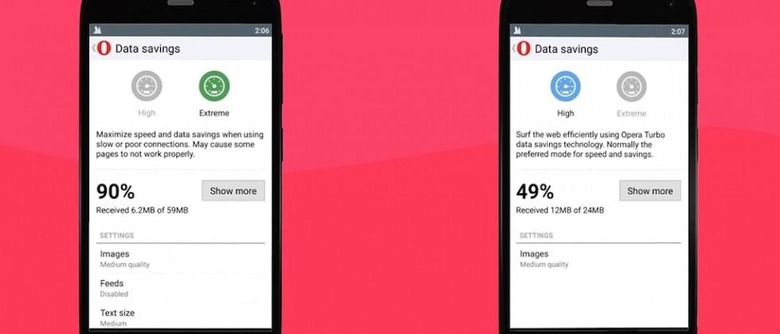 The Opera Mini browser for Android has just been updated with refined versions of its data saving modes. Previously, the browser was known for giving users the option of reducing bandwidth and speeding up load times, in turn compressing websites and their layouts, but this was either an "on" or "off" setting, with nothing in between. There are now "Extreme" and "High" settings, which reduce data by 90% and 30-40%, respectively.
Extreme is roughly the equivalent of Opera Mini's previous setting, using scaled-down images and simplifying the layouts of webpages in order to save as much data as possible. High, on the other hand, isn't as drastic, still downloading full image sizes and rich media like video players on webpages.
The image below shows a sample of viewing Facebook through each of the data saving settings, with Extreme on the left and High on the right. While Extreme seems suited for situations where data must be saved at all costs, High could be of use when on a 3G connection or when a poor WiFi network is the best option for getting online.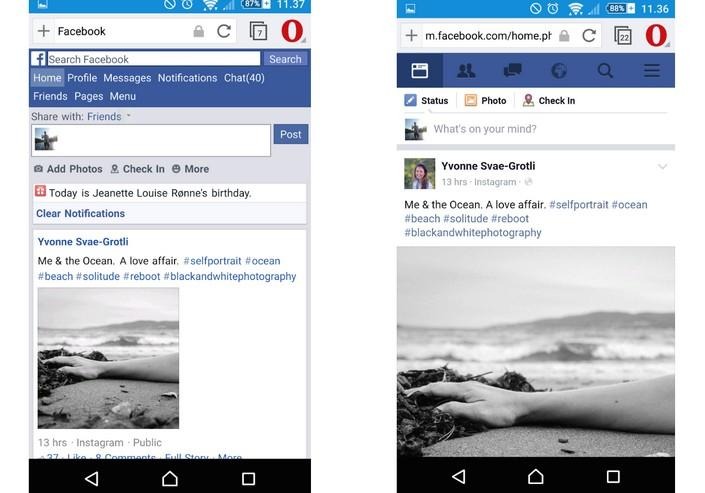 The Opera Mini update is available for download now via the Google Play store. Other changes include a new user interface for saved webpages and bookmakers, while the High data saving mode handles larger file downloads better.
SOURCE Opera Blog [Google Play]