Opera Mini for iPhone at MWC 2010: Will it ever get released?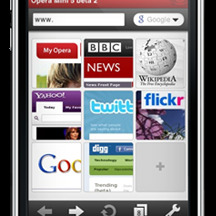 Browser developer Opera have revealed that they plan to launch a version of Opera Mini for iPhone at Mobile World Congress 2010 next week.  As in other versions of Opera Mini on different platforms, the iPhone app will support the company's compression system which shrinks down webpages and results in faster load-times and reduced data traffic.  It will also throw in tabbed browsing (something still absent from Safari on the iPhone) and a password manager.
However, while Opera may be previewing the new app, that doesn't mean users will be able to download it post-MWC.  Apple have previously shown themselves to be resolutely opposed to permitting third-party browsers in the App Store, which means iPhone and iPod touch owners won't actually be able to get it, at least not legitimately.
It remains to be seen whether Opera will release Opera Mini for iPhone as an unofficial title, which will require a hacked iPhone in order to run, but the audience for such a release would be significantly smaller than an official distribution.  While we'd like to imagine this is a hint of Apple loosening their control over the App Store – Opera Mini for iPhone would be very interesting on the Apple iPad – we can't quite see it happening.
Press Release:
Opera Mini for iPhone sneak peek

Exclusive press and partner preview at MWC 2010

Oslo, Norway — February 10, 2010

Opera Software, maker of the world's most popular mobile Web browser, plans to reveal Opera Mini for iPhone in an exclusive press and partner preview during the 2010 Mobile World Congress (MWC). Visit Opera's exhibit in Hall 1, C44, to witness a new way to surf the Web on the iPhone — an experience that Opera promises will be fast, easy to use, and packed with favorite Opera features.

Opera Mini is renowned for its compression technology, which results in significantly faster Web-page loading and reduces data surcharges. With favorite desktop features in its arsenal, such as tabs, Speed Dial and the password manager, Opera Mini is designed with usability in mind.

"We are thrilled to offer journalists and partners an exclusive preview of Opera Mini for iPhone during the year's biggest mobile event," said Jon von Tetzchner, Co-founder, Opera Software. "This is a unique opportunity to introduce the fast, feature-rich Opera Mini experience for the iPhone, and to showcase our latest beta releases of Opera Mobile and Opera Mini on other platforms and devices. Opera's mission is to bring the Web to the world, and by making Opera Mini available on yet another platform, we are one step closer."

While Opera Mini for iPhone is not publicly available, visitors without a press pass will not leave Opera's stand disappointed. Opera will unveil a host of other Opera-powered devices at its exhibit. Check out the following Opera technology, live from MWC:

Opera Mobile 10 beta 3 on Symbian S60 and Windows Mobile handsets

Opera Mobile 10 beta running on Android handsets

Opera Mini 5 beta, running on a variety of handsets and platforms

Opera's cross-platform Widgets Manager beta, running on Windows Mobile and S60 handsets

To hear more from Opera about the future of the Web, attend one of our speaking engagements during MWC:

Monday, February 15, 2010

15:00 — Jon von Tetzchner, Vodafone panel discussion on "Mobile Web developments, W3C standards, using Web APIs and the live creation of widgets", in Hall 7, Auditorium 1

Tuesday, February 16, 2010

14:00 — Håkon Wium Lie, panel discussion on "Mobile security in an IP world", Hall 5

14:00 — Christen Krogh, presentation on "Creating a connected cloud for the perfect mobile storm", Hall 5

15:45 — GSMA Awards ceremony, Opera Mini shortlisted for "Best Mobile Internet Service" and "Best Mobile Technology Breakthrough", Hall 5, Level 3, Auditorium 1

Get your hands on an Opera-powered device by visiting our stand in Hall 1, C44, during Barcelona's annual Mobile World Congress, or schedule a meeting with Opera. Contact press10@opera.com press10[at]opera.com for more information.