Opera 11 Beta Adds Tab Stacks & Speed Boost [Video]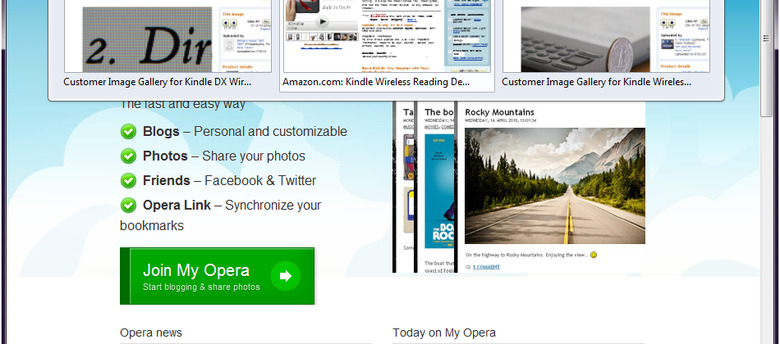 Opera has pushed out the first beta of Opera 11, the latest iteration of its browser and the first to support tab stacking. Billed as a less cluttered and more intuitive way to deal with tabs than the regular side-by-side layout, groups can be organized by site or by theme, and new stacks created by simply dropping one tab onto another (a little like how iOS folders work). Meanwhile Opera 11 also gets extension support, mouse gestures and more.
Video demo after the cut
Opera claims to be seeing 10-20 new extensions added each day; you can browse the catalog here. As you'd expect, it's billed as faster and more efficient than Opera 10, too, being a 30-percent smaller install and 15- to 20-percent faster on the regular benchmarks than its predecessor. Plug-ins can now be set to load on demand, rather than being constantly active, which is also good for up to a 30-percent performance boost.
Automatic extensions updates, new security indicator badges and a streamlined address bar round out the main changes, along with a new bookmarks bar. It's a free download from here, and is available in Windows, Mac and Linux versions.
Press Release:
Tabs go to 11

First beta of Opera 11 showcases tab stacking

Oslo, Norway – November 23, 2010 – Tabbed browsing, one of the essential features in all browsers, has evolved yet again thanks to its long-time pioneer. Opera 11 beta introduces tab stacking, a better way to organize your open tabs. Traditionally, tabs were opened side-by-side, but now people using Opera can stack their tabs, grouping them by site or by theme. Tab stacking reduces clutter and makes it easier to identify and work with sets of open tabs.

It is easy to stack tabs. Simply drag one tab on top of another. Hovering the mouse over a tab will cause the stack to expand in a visual preview. Clicking the arrow icon expands the current stack across the tab bar. This brief video showcases tab stacking in action: http://www.youtube.com/watch?v=5hqSGGk1YTI.

"Tabs are the most popular feature in browsers today," said Jan Standal, VP of Desktop Products, Opera. "Because so many of us wrestle with tens or even hundreds of tabs, we wanted to find a better way to manage them. So, whether you are tracking positive reviews of your new album or researching the proper dimensions of Stonehenge, stacking your tabs is an intuitive way to organize and group your open webpages."

Extensions go to 11

Opera 11 also introduces extensions, browser add-ons that enhance the capabilities of Opera. In the three weeks since extensions debuted in the alpha release of Opera 11, more than 500,000 extensions have been downloaded. Fueling the growth in available extensions, developers submit between 10 and 20 new extensions each day. The full extension catalog is available here: https://addons.labs.opera.com/.

Thanks to a new developer mode in Opera 11 beta, extensions are even easier to make. Developers can use the developer mode to launch, test and package extensions quickly.

Mouse gestures go to 11

Mouse gestures provide a simple and effective way to control Opera with a few simple mouse movements. Since their introduction in Opera 5, mouse gestures have proven to be one of the most loved Opera features. In Opera 11, a new visual interface highlights mouse paths and helps guide the discovery, use and mastery of these powerful shortcuts. The full list of mouse gestures is available here: http://www.opera.com/browser/tutorials/gestures/.

But wait! There is more:

- The address field now hides unnecessary information and puts the security status of each page front and center. Now, badges explain the security state of the site, giving consumers clear information about the sites they visit.

- Plug-ins can be set to load on-demand. This can give as much as 30 percent performance improvement.

- Extensions and Opera Unite applications are updated automatically through Opera's update mechanism.

- Even more work has been done to boost browsing speed, particularly for Linux. Opera 11 for Linux is 15 to 20 percent faster on common benchmarks than Opera 10.63.

- Bookmarks are just a click away thanks to a new bookmarks bar that replaces Opera's personal bar.

- Opera 11 is 30 percent smaller than Opera 10.63, despite including new features.

Availability

Download Opera 11 beta (English only) from http://www.opera.com/browser/next. Opera runs on Windows, Mac and Linux computers.

Resources

Opera 11 beta press kit: http://www.opera.com/media/presskit/Opera11beta.zip

Timeline of tabbed browsing in Opera: http://www.opera.com/bitmaps/press/resources/campaign/opera11beta/tabs_timeline.gif

No drummers were harmed in the making of this browser.

About Opera Software ASA

Opera Software ASA has redefined web browsing for PCs, mobile phones and other networked devices. Opera's cross-platform web-browser technology is renowned for its performance, standards compliance and small size, while giving users a faster, safer and more dynamic online experience. Opera Software is headquartered in Oslo, Norway, with offices around the world. The company is listed on the Oslo Stock Exchange under the ticker symbol OPERA. Learn more about Opera at http://www.opera.com/.