Open Source Virtual Reality Academia heads to Universities worldwide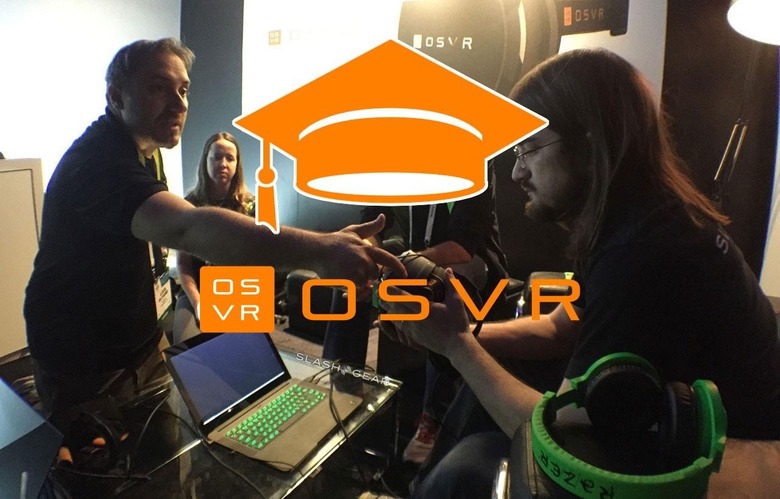 Earlier this year amid Razer's introduction of OSVR (Open Source Virtual Reality) to the masses, an announcement was made for the program's approach to higher-education. This program provides OSVR virtual reality headsets to participating VR programs for students, along with software for development. Now here near the end of March, the OSVR Academia program is partnering with universities in Germany, Italy, Canada, Spain, the UK, Austria, and Poland. And the United States, of course, where 18 Universities have connected with the program in the short time it's been visible to the public.
More universities are being added to the list being revealed today. This is the first comprehensive list of universities to be shown by OSVR as joining the OSVR Academia program since inception.
• Cracow University of Technology, Poland
• Desert Research Institute, USA
• Hamburg University of Applied Sciences, Germany
• Iowa State University, USA
• Istituto Auxologico Italiano, Italy
• Johns Hopkins University, USA
• Nara Institute of Science and Technology, USA
• North Dakota State University, USA
• Ohio University, USA
• Rensselaer Polytechnic Institute, USA
• Ryerson University, Canada
• The Art Institute of Vancouver, Canada
• Università Cattolica del Sacro Cuore, Italy
• Universitat de Barcelona, Spain
• University College London, UK
• University of California, Berkeley, USA
• University of California, Riverside, USA
• University of California, San Diego, USA
• University of Central Florida, USA
• University of Minnesota, USA
• University of New Mexico, USA
• University of North Carolina at Chapel Hill, USA
• University of Portsmouth, UK
• University of Texas at Dallas, USA
• Vienna University of Technology, Austria
• Virginia Tech, USA
• Wichita State University, USA
• York University, Canada, USA
"The technologies that drive virtual reality are changing quickly," said Aaron Westre, Adjunct Assistant Professor from the Virtual Reality Design Lab at the University of Minnesota, "and a standardized platform like OSVR enables technology to adapt to that shift more quickly than ever before."
"We need to integrate new hardware devices and software techniques as soon as they're available. The modular architecture of OSVR offers us an efficient platform to increase our agility and invent new VR experiences for users."
We first reported the OSVR Academia program only as a blip inside a larger story about Unity and Unreal Engine earlier this week. Little did we know the program would be taking off so quickly.
Each university had to have (or be in the process of creating) a full VR lab for virtual reality development education to participate in this program. Once approved, the OSVR Academia program sends 10 OSVR Hacker Development Kits (VR headsets) to the university along with full access to the OSVR source code.
The OSVR Academia program remains open to Universities through the foreseeable future. Potential universities can speak with OSVR through their OSVR Supporters page.
Have a peek at the OSVR timeline below for more action from the past several weeks. This program was only just initiated in January during CES 2015 and it's rolling with partner after partner – taking off and growing quickly since then.