Open Season: Scared Silly director speaks on his wild animation past
The film Open Season: Scared Silly is out now – how well do you know its director? Did you know that he was also responsible for the cult classic cartoon Cow and Chicken – and (of course) I AM Weasel as well? Back when the original Open Season was first released, it was back in the early days of big-time 3D-animated films – the year 2006! Back then, Feiss was asked by Sony Pictures Animation to be Head of Story on the film. Since then the movie has spawned three sequels, the latest of which comes out this week!
Today we've got a feature to share with you from Feiss – a video which shows you how to draw Elliot. That's one of main characters of Open Season, the deer with busted horns – one of which was broken off in the first movie, which again, was released for the first time in theaters a whole 10 years ago.
Here you'll see Feiss drawing direct to a Wacom device. Imagine the director of an animated film being able to draw the characters in the film themselves. That's an intimate relationship with the characters if ever there was one.
On how the newest Open Season will stand out amongst the many films being released for kids here in 2016: "I think people remember fondly the original "Open Season", and I believe there is a positive familiarity with these particular characters," said Feiss.
"People like Boog and Elliot and Mr Weenie and their world and style of humor."
We had the chance to toss a few brief questions at Feiss as well.
Ten years after the original film, Feiss returns to a universe he helped create. "To come back to Open Season after a gap of about nine years – it was awesome, actually."
"It is honestly a fun job."
"I feel like I've never really had to work a day in my life, because this is what I did as a teenager, and I'm still doing it."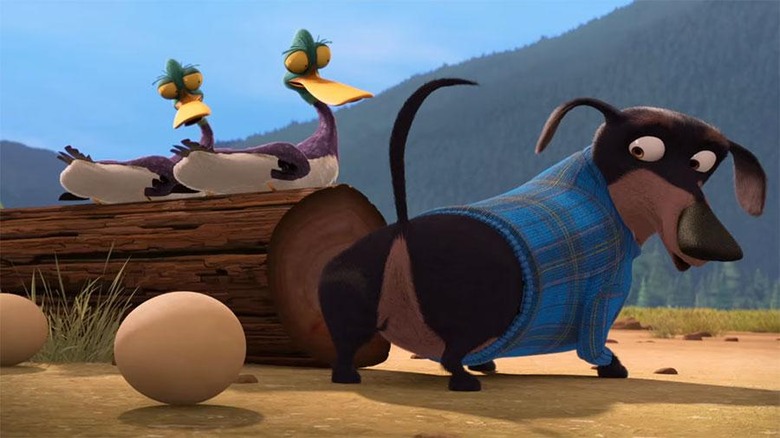 Feiss has worked in various roles on films for many years, as everything from animator to writer to actor and director. He created and directed Cow and Chicken for Cartoon Network. He worked in the art department for films like Penguins of Madagascar and Free Birds.
Feiss worked in the animation department for films from Ren and Stimpy to Despicable Me 2. He worked as an animator on Heavy Metal in 1981 in the segment "Taarna", The New Scooby and Scrappy-Doo Show, The Surfs, and The Jetsons, too.
He's been places.
Feiss' range of work (obviously Heavy Metal is a fair distance in content from Open Season), we asked the director what he now prefers to work on here in 2016. "Honestly," said Feiss, "I prefer making films that appeal to ALL the family–kids AND adults."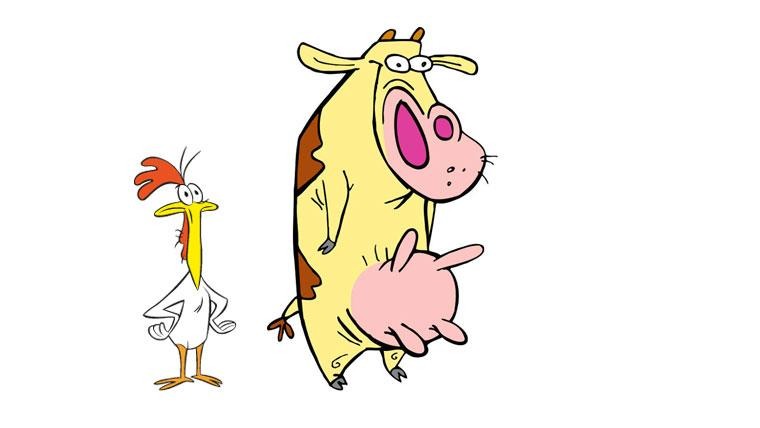 Feiss' own most famous original cartoon is certainly Cow and Chicken, which went off the air in 2004. Since then he's worked on a number of sequel films and projects headed by other artists.
On whether Feiss would rather work on a brand new cartoon next, or reboot an old favorite: "I would love to do something new," said Feiss.
"But I still have a very fond place in my heart for Cow and Chicken and I AM Weasel... I would be awesome to revisit those characters in a new CG world."
If only!
Open Season: Scared Silly will be out by the time this article is published on Blu-ray Combo Pack, DVD, & Digital HD.