Onyx Boox WiFi touchscreen ebook reader gets hands-on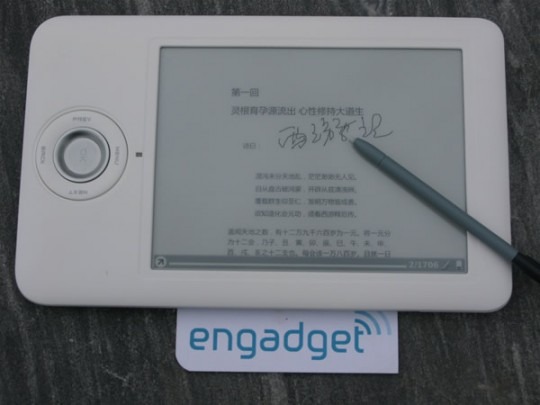 We know Onyx better as a BlackBerry smartphone codename or a touchscreen cellphone prototype, but in China it's also the name of an ebook reader manufacturer.  Engadget Chinese had a chance to play with their new product, the Boox, a WiFi-enabled touchscreen device with an internet browser as well as an ebook app.
There seems to be no shortage of reading options, including multiple fonts, page layouts and zoom levels from 75- to 400-percent.  Meanwhile there's also handwritten annotation support, using the touchscreen.  The Boox supports PDF, EPUB, TXT, CHM, RTF, PRC, HTML, PDB, JPG, PNG, BMP and TIFF formats, as well as having an MP3 player, though it – unsurprisingly – can't handle video.
More shots of some of the Boox's more unusual functionality – including the browser – here.  No word on whether it'll make it out of China and to the rest of the world, however.