OnLive hits iOS and Android with phone/tablet cloud gaming

OnLive has launched its smartphone and tablet cloud gaming apps for iPhone, iPad and Android, bringing console-class gaming to WiFi and 3G/4G mobile devices with an optional wireless controller. This updated control pad uses what OnLive calls "adaptive wireless" to automatically find the best connection with your TV, PC, Mac, Blu-ray player, smartphone or tablet, and will go on sale on December 9 at $49.99/£39.99. Check out the video demo after the cut.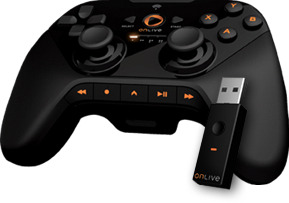 The iOS and Android apps themselves are free, though you'll of course need to pay OnLive for the privilege of using the games. If you're on a budget, though, you can bypass the wireless controller and just stick with the touchscreen on your phone or slate, though only 25 titles actually support that method of input; if you want to use most os OnLive's near-200 games, you'll need that controller.
Up to four controllers can be paired with a PC using a bundled USB adapter, along with a Bluetooth headset for in-game voice communication. It's powered either by a pair of AA batteries or an OnLive rechargeable pack, which rejuices via a USB connection and is apparently good for up to 36hrs of play.
Those gaming on their phone or tablet can play against others using their PC, Mac or the OnLive Microconsole itself, and all the usual social and "Brag Clip" features are present. Touch-supporting games include L.A. Noire, LEGO Harry Potter: Years 1-4 and 5-7, and Defense Grid Gold.
[via Android Community]