Onkyo intros a pair of entry-level HTiB, HT-S3200 and HT-S5200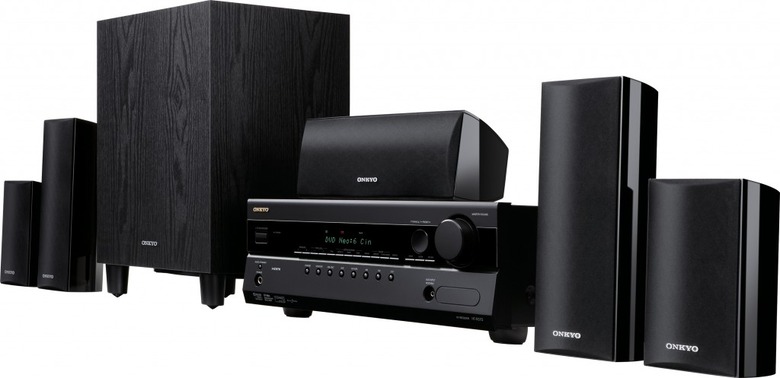 Not everyone in need of an AV receiver or high end separate audio/video components, the value-pack Home-Theater-in-a-Box has its niche market for an entry-level Home Theater entertainment in a living room. Last Week, Onkyo unveiled the world's first AV receiver with all new Dobly ProLogic IIZ sound effect, today, they are back with a pair of basic HTiBs – 5.1 channels HT-S3200 and 7.1 channels HT-S5200.
Both systems consist of an HDMI output audio/video terminal with pass-though or 1080P video to deliver Depp Color, x.V.Color, Audyssey Dynamic Volume and Dynamic EQ technologies with additional optical/coaxial digital connectivity. The 660-watt smaller sibling includes a 5.1 sound processing audio with 8-inch bass reflex subwoofer while the set-up model packs 7.1-channel audio with 1200-watt power. Additionally, it's also better equipped with iPod docking station, Audyssey 2EQ room calibration and an 10-inch 290-watt bass unit.
The Onkyo HT-S3200 is available in black finish with a suggested retail price of $379. The Onkyo HT-S5200 will set you back $599 but has choices in both Black and Silver finishes.
UPPER SADDLE RIVER, NJ (03/16/09) — Onkyo has introduced two entry-level home theater in a box (HTiB) packaged systems, each consisting of an HDMI-equipped audio-video receiver, five or seven surround-sound loudspeakers with subwoofer, and the top model includes an iPod docking station. When combined with a HDTV video display, Blu-Ray or DVD player, and cable/satellite TV box, these systems provide everything needed for a fully satisfying home theater surround sound experience.

"With the current economic climate, our high-value entry-level HTiB's are doing quite well," said Paul Wasek, Marketing Manager, Onkyo USA. "The addition of Audyssey technologies along with new DSP gaming modes and HDMI connectivity make these systems a real value for the consumer."

Both systems include 1080p compatible HDMI connections, with HDMI Pass-Thru for optimal high definition video quality, including Deep Color and x.v.Color. For optimum sound quality, sources are connected via optical/coaxial digital connections, using a range of Dolby and DTS processing modes. There are four DSP gaming modes for rock, sports, action, and role-playing sound effects. The HT-S5200 incorporates Audyssey 2EQ™ room correction technology to automatically adjusts the sound character and time delay of each speaker relative to the listening positions, Audyssey Dynamic Volume™ which maintains optimal listening levels and dynamic range and Audyssey Dynamic EQ™ that adjusts the loudness contour on the fly to optimize sound quality for any volume, particularly at low listening levels. The HT-S3200 utilizes Audyssey Dynamic Volume and Dynamic EQ technologies.

The 1200 total watt 7.1-channel HT-S5200 uses powerful 130-watts-per-channel amplifiers that are perfectly matched to the included Onkyo Micro Fiber (OMF) speakers. A 10-inch 290-watt bass-reflex subwoofer adds bass depth and high-level excitement to movies and music. The HT-S5200 is Sirius satellite radio ready, includes Onkyo's Music Optimizer to enhance the dynamic range of MP3 and AAC files which are normally compressed for headphone playback, and it has advanced Dolby Digital EX and DTS-ES Discrete/Matrix surround sound processing capabilities. The system also includes a dedicated Onkyo iPod dock and charging station.

The more affordable 660 watt Onkyo HT-S3200 includes the model HT-R370 5.1-channel AV receiver with 110-watts per channel, three HDMI pass-through inputs, DTS and Dolby Digital surround processing, and five loudspeakers and an 8-inch bass reflex subwoofer that is powered by the receiver.

The Onkyo HT-S5200 is currently available in either black or silver finishes with a suggested retail price of $599. The Onkyo HT-S3200 is available in black with a suggested retail price of $379. Both systems include speaker wires and full-function remote controls.