Onkyo intros TX-SR607, world's first AV Receiver with Dobly ProLogic IIz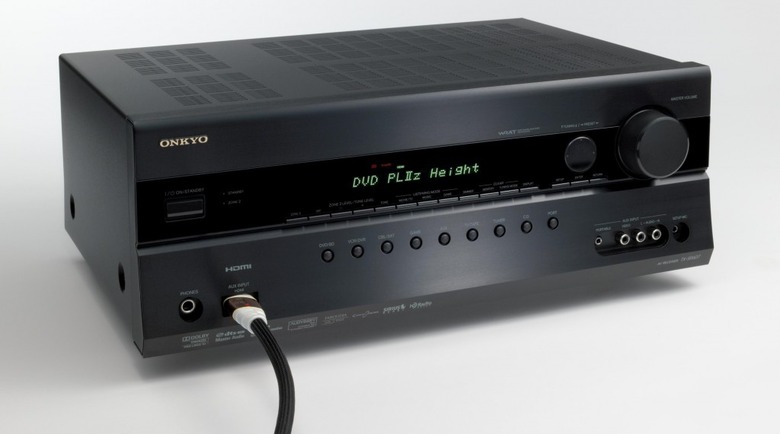 Many moons ago, I have this thought of digital surround sound processing will get discrete vertical sound field over your head, from a pair of ceiling speakers, to create a much realistic Home-Theater experience in your living room. Dolby's Lab has done it, but with a set of speakers above the front channels. A much logical solution without having to install speakers on your roof. The Dolby Pro Logic IIz now features up to 9.1 channels playback system that enhances the spaciousness of music, movies, and video games, and Onkyo is the first manufacturer to provide the new dimension sound effect with the introduction of TX-SR607 AV receiver.
Relax, the newly announced TX-SR607 will not cost you an arm and a leg. In fact, it's rather affordable and is fully loaded model with an array of advanced HD audio and video processing from DTS-MA, Dolby True HD, Audyssey 2EQ , 1080P Faroudja, Deep Color, x.v Color, five plus one front input HDMI connectivity, but most strikingly, the first Dolby Pro IIz equipped 7.2-channel AV receiver at the suggested retail of $599!
Additionally, the unit enables analog video upconvert to HDMI; outputs power at 90 watts per channel; and has connectivity from a dual subwoofer line-outputs, dual component input video and a proprietary rear-panel universal port for upcoming HD Radio Tuner/iPod Dock.
If you are hesitating about an extra set of front speakers, Onkyo also introduces a pair of entry-level TX-SR307 and TX-SR507 Av receivers alongside the 607 without the Dolby Pro Logic IIz at the suggested retail of $299 and $399, respectively. Both will be available from March and a month later for the 607.
Onkyo targets value-conscious consumers with a Spring 2009 AV Receiver line-up offering new technologies, features, and performance not previously available at these prices.
UPPER SADDLE RIVER, NJ (3/12/09) – As the first installment of its 2009 product line-up, Onkyo has introduced three new home theater receivers, including the world's first to offer Dolby's new ProLogic IIz processing, which can produce sound effects above the listener's head. Theses models, which range in price from $299 to $599, also include an array of advanced HD audio and video technologies from Onkyo, Dolby, DTS, Audyssey, Faroudja, and others that were previously only available at higher price points. The TX-SR607 features six HDMI inputs, and is the first AV receiver with a front-panel HDMI input.

With the debut of the new TX-SR607 receiver, Onkyo has the distinction of becoming the world's first manufacturer to launch a 7.2-channel home cinema receiver featuring the all-new Dolby Pro-Logic IIz mode. Designed to take home cinema sound to new heights (literally!) DPL IIz introduces a vertical aspect to the sound field through the addition of left and right-channel front height speakers mounted above the main speakers. Based on the initial positive reactions to demonstrations of this technology to dealers, Onkyo anticipates good demand for expanded height channel capabilities in future models.

"We are very excited to be the first audio manufacturer to utilize this exciting new surround format from Dolby," comments Onkyo USA marketing manager Paul Wasek. "It adds a new realm of audience involvement in three dimensions, with surprise aircraft flyovers triggering the 'duck' reflex. Onkyo has launched this technology on our most popular AV receiver, rather than our most expensive, in order to reach out to a much larger customer base. The company's premium receiver lineup, which will roll out over the Summer, will include expanded height-channel capabilities, internet radio and network audio technologies at lower price points."

These new models are well equipped for Blu-ray and other HD audio and video source components, with HDMI repeaters plus Dolby True HD and DTS-HD Master Audio processing in the TX-SR607 and TX-SR507. The entry-level TX-SR307 has HDMI pass-through switching on three inputs, while all three models support 1080p, Deep Color, and x.v.Color.

All of these receivers use Audyssey 2EQ, an automatic calibration system which corrects each channel's output in both frequency and time domains based on measurements at three unique listening positions, Audyssey Dynamic Volume technology, which optimizes the dynamic range of listening material at any listening level, and Audyssey Dynamic EQ, which corrects problems associated with reduced sound quality at low listening levels.

Onkyo has also developed four new exclusive gaming modes designed to enhance the listener's experience when using video game systems. Players can select from Rock, Sports, Action, or Role Playing game modes to match the gaming content. These new modes will immerse all the players in the action like never before.

The Onkyo TX-SR607 and TX-SR507 are the first to use the company's new proprietary rear-panel universal port, which simplifies the connection for Onkyo's forthcoming HD Radio Tuner and iPod Dock that will be available in late spring. The 5.1-channel TX-SR307 and TX-SR507 have 65- and 80-watts per channel amplifiers respectively, while the 7.2-channel TX-SR607 is rated at 90 watts per channel, has dual subwoofer line-outputs, upconverts all analog sources to HDMI via Faroujda DCDi technology, and is Sirius Satellite Radio ready.

The Onkyo TX-SR307 and TX-SR507 will be available in March, and the TX-SR607 in April with suggested retail prices of $299, $399, and $599 respectively.