Onkyo BX 407A4 is rebadged, expensive UMID mbook M2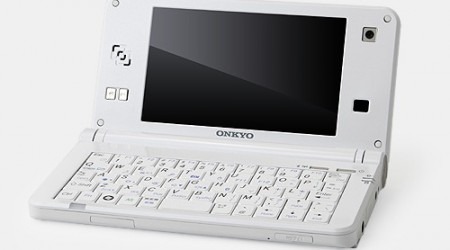 Alongside Onkyo's rebadge of the Kohjinsha dual-display netbook yesterday, the company also announced a smaller system that should be familiar to MID-trackers.  The Onkyo BX 407A4 is more recognizable as the UMID mbook M2, launched back in September, but while UMID couldn't quite tell us when the M2 would be on sale, Onkyo are already taking orders for the BX-Series.
That means we have some confirmed specifications, at least for the BX 407A4, and it doesn't make for particularly exciting reading for those would-be owners disappointed by the mbook M1's meager RAM.  The BX-Series uses an Intel Atom 1.2GHz processor with 512MB of RAM and a 32GB SSD, along with WiFi b/g, Bluetooth 2.0 and a new optical joystick next to the 5-inch 1024 x 600 touchscreen.
Up to 7hrs of battery life is predicted, though that's only if you leave the Onkyo idling; anything more demanding and the Windows XP mini-netbook will probably get around half of that.  Onkyo are asking 64,800 yen ($729) for the machine, though importers are already adding their slice of gouge to that: GeekStuff4U have it at 79,000 yen ($889) which is frankly insane.  UMID had suggested that a similar mbook M2 model, only with 8GB SSD and without the webcam of the Onkyo, would be around $499.
[via UMPC Portal]