ONGUARD iPad, iPhone 5, And Nexus 7 Folding "Origami" Cases Hands-On
This week we got the opportunity to speak with Jane from ONGUARD about the company's new family of folding cases and covers for the iPad, iPhone, and Google Nexus 7. What you're seeing here is a brand new line of cases and covers, the company bringing on a new generation of magnet-toting amalgamations of protection and display for your devices. What we've seen here is a unit for the iPhone 5 that's a case and a stand in one, a similar solution for the iPad (3/4), and another for the Google Nexus 7 tablet that's not just a stand, but a sleeve as well.
The iPhone 5 unit we're seeing here is shown in leathery black with red stitching, working as two separate pieces, a case that can exist on its own, and the leathery bit that fits over it to create one single unit. The protection this unit offers is thick and robust, but the real gem is the stand – it's magnetically held tight and down in your pocket when you don't need it and folds up and out when you do. Real simple, really high quality – and it'll hold your iPhone up in two different positions.
NOTE: None of the cases are called "origami" as such, but that's certainly the easiest way to describe them to someone who has never seen them before.
Next is the iPad case and stand by the name of ONGUARD Shell. This unit fits around the sides and back of your iPad to offer some basic protection for everything but the display and, like the iPhone case, folds up in a triangular origami-like way to prop your iPad up with style. While we've seen similar solutions to this in the past, this is the only unit we've seen where the stand stays flat against the back when not in use.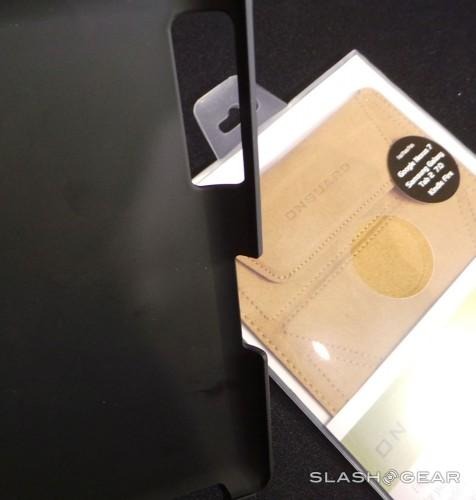 Finally there's a unique case/stand by the name of ONGUARD Sleeve for the ASUS Nexus 7 from Google. This unit (like the other solutions we've seen today) comes in a variety of colors, but here works on the understanding that the Nexus 7 is already thick enough as it is, keeping your protection limited to when you're in transit with the machine rather than having it covered at all times. The case then folds up and acts as a stand, once again, when you've taken the device out for daily use. Well played!
We'll be seeing more of ONGUARD in the near future – for now you'll want to jump in on the rest of our CES 2013 action in our massive CES portal all week long for more hands-on action and up to the minute updates all week long!