OnePlus One phone sketches hint at design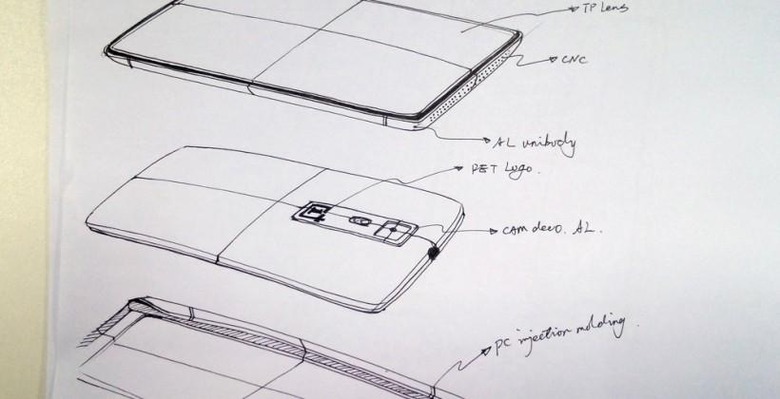 The enigmatic OnePlus One phone is still covered in a shroud of mystery, however there are some teasers out in the wild that suggest that the sketches you see in here are the real-deal. Besides some of the defining features, we really don't know much about the device. Those eager to know more have been feeding off the snippets its team members have been revealing.
We know that BGR has managed to get a hold of these sketches and it originates from the design team. What we don't know is that if this is the final design or anywhere close to it.
It's common for designers to start off with one basic idea and then refine it to such an extent that only the original design cues remain and nothing more. Meaning, the final product looks radically different from the original sketches and only the inspirational elements remain.
Deciphering the image in here, we see that it has notes indicating an aluminum uni-body design and a power button. Whether these cues are retained, we will have to wait and see. The phone will host a 2.3GHz Snapdragon 800 quad-core processor and will work with the CyanogenMod Software.
The 5.5-inch 1080p JDI display takes up about 72% off the handset design and it corresponds to the 3,100mAh battery. Always-listening feature, Software – capacitive button options and a price range of not more than $400, are some of the other details about the phone. Things will become more apparent by the 17th of March, which is when the phone officially makes its debut.