OnePlus 7T release date, price, hands-on with Glacier Blue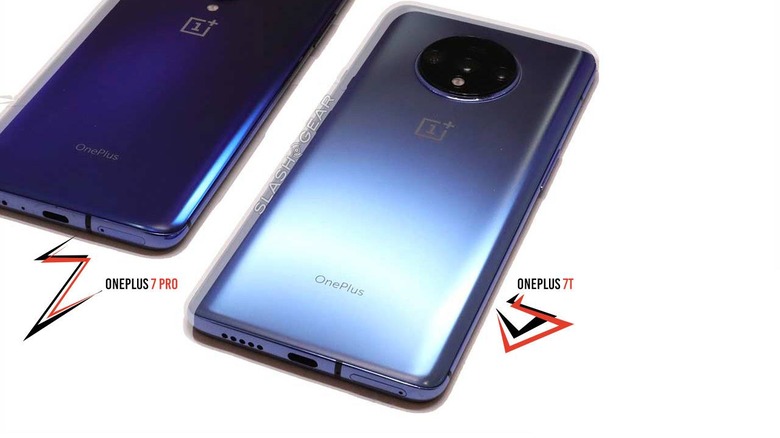 This morning the OnePlus 7T was revealed to the public in full. This device is the second OnePlus smartphone released in the United States in the year 2019 and it'll be "exclusive" to T-Mobile USA. The exclusive part is a bit of a misnomer because while it won't be on store shelves at any other mobile carrier, it'll still be available for purchase through OnePlus in the OnePlus store online.
This device has a 6.55-inch "Fluid Display" (OnePlus branding indicating a display with 90Hz image refresh rate) with a 20:9 aspect ratio and FHD+ resolution. The panel is just as colorful and slightly brighter than that of the OnePlus 7 Pro. This panel is also slightly smaller than that of the OnePlus 7 Pro, and where the OnePlus 7 Pro's display is a "full" display, the 7T has a notch for its front-facing camera.
SEE TOO: Our big OnePlus 7T Review (in Glacier Blue)
We've had the opportunity to review the OnePlus 7T in-depth here at SlashGear – you'll find the link to that review above (or to the side) of this paragraph. The OnePlus 7T was announced to arrive in two colors – the one we've used in our review has the color name Glacier Blue. The Glacier Blue you see here is slightly different from the blue released with the OnePlus 7 Pro earlier this year.
The Pro has a darker hue, while the Glacier Blue of the 7T is a bit closer to a very light gray. The way they've implemented the printing on the device makes the OnePlus logo on the back of the device look like it floats. More on this and other details in our full review.
The OnePlus 7T was priced at $599 at launch when announced on September 26, 2019. This was the one and only price of the device in its release inside the United States.
The OnePlus 7T was announced with a release date of October 18, 2019 for the United States. Unlike OnePlus devices released in past years, the OnePlus 7T was only offered in a single configuration at launch, with 128GB internal data storage and 8GB RAM. Take a peek in the timeline below for more info and stick around for future explorations of updates to this device!