OnePlus 7T events set: 90Hz screen and surprises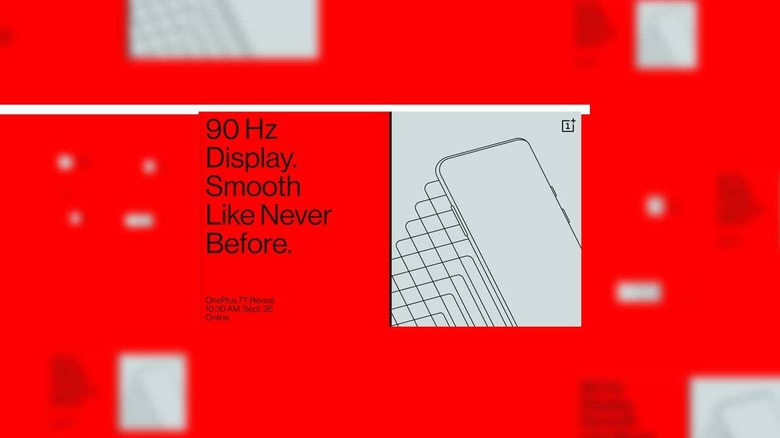 This morning the OnePlus 7T was revealed in name with precious few details for an event that'll happen this month. The folks at OnePlus revealed this information about the next-generation device with a few notes on scheduling and the technology that'll be embedded within the smartphone itself. This will be a direct follow-up to the "90 Hz Fluid AMOLED display" of the OnePlus 7 Pro in a device called OnePlus 7T.
On September 26th at 10:30AM Eastern Time the North America-based event will take place. That'll be the first "unique online reveal of the OnePlus 7T in North America." It'll be streamed on the OnePlus homepage and through the OnePlus YouTube, Twitter, and Facebook channels – just in case you want to watch it on 4 screens from 4 different sources at once!
According to the release from OnePlus today, "the OnePlus 7T will again feature the brand's signature 'fast and smooth' experience, giving users a super-smooth experience like never before." They've not exactly promised that it'll have the same display as the OnePlus 7 Pro – but it'd be sort of a shock to find that it was different in any significant way. Unless, of course, there are two devices?
SEE TOO: OnePlus 7 Pro: A Hero Phone with a price to match
Pete Lau, Founder and CEO of OnePlus suggested today that "[OnePlus'] users' wants are at the core of our innovation. We are holding launch events to share the products, witness their experience and hear their thoughts firsthand." There'll be separate events in New York, London, and India, all at different times of day – two on September 26, another on October 10.
Lau continued, "We also like to give our fans a special surprise that is unique for each region." The India event will be on September 23 at the Indira Gandhi Arena in New Delhi and will take place starting at 19:00 IST. In London on October 10 at 16BST, OnePlus will host an event at the Magazine London Theater.
Stay tuned as we get our hands on whatever OnePlus has to offer in the very, very near future. This device – or these devices – will likely look similar to the OnePlus 7 and/or OnePlus 7 Pro, but will bring the experience up a notch in more ways than one. Such is the history of the brand and the way in which they've grown at an extraordinary rate over the past half-decade.