OnePlus 7 specs leaked: 48MP, 5G in effect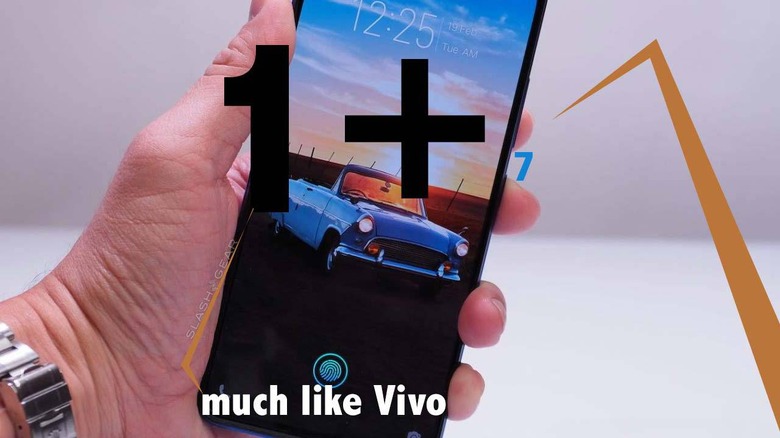 Today we're looking at a set of specifications for the OnePlus 7, having a peek at how it takes the line to a new level. The OnePlus 7 looks like it'll reach for the logical conclusion in smartphone frontside evolution – one big display, no distractions. The specs sheet we've got today suggests the OnePlus 7 will tote a sizable display at 6.5-inches, with no front-facing camera – not immediately visible, anyway – and another under-display fingerprint sensor.
The big deal with OnePlus's announcements on the next OnePlus smartphone made thus far seem to have been centered on 5G. However – as far as we can tell (via leaks) – the OnePlus 5G smartphone won't necessarily be the OnePlus 7. Or at least we won't see the OnePlus 7 at Mobile World Congress 2019. Instead, we'll see at testing phone that'll SORT OF give us an idea of the powers of which the OnePlus 7 will be capable.
NOTE: Images in this article are of the recently-released Vivo V15 Pro. We got a Vivo V15 Pro hands-on experience posted this week – and it's pretty neat. You'll see a lot of specs there that end up close to the OnePlus 7 later this year.
According to one source familiar with the information speaking with SlashGear on condition of anonymity – the OnePlus 7 will come toting 6.5-inch Optic AMOLED display and an in-display fingerprint sensor and 2340 x 1080 pixel resolution. There is a SMALL possibility the fingerprint sensor will be moved to the back of the phone again – but this is highly unlikely.
According to this same source, device will sport several different editions, one with 6GB RAM (LPDDR4X), 64GB internal storage. Another will have 6GB RAM and 128GB internal storage. There'll also be a highest-end version with 10GB RAM and either 256GB or 512GB internal storage. The processor in this device will be
a Qualcomm SDM855 Snapdragon 855
(7 nm) with one of the first Snapdragon X55 modems on the market.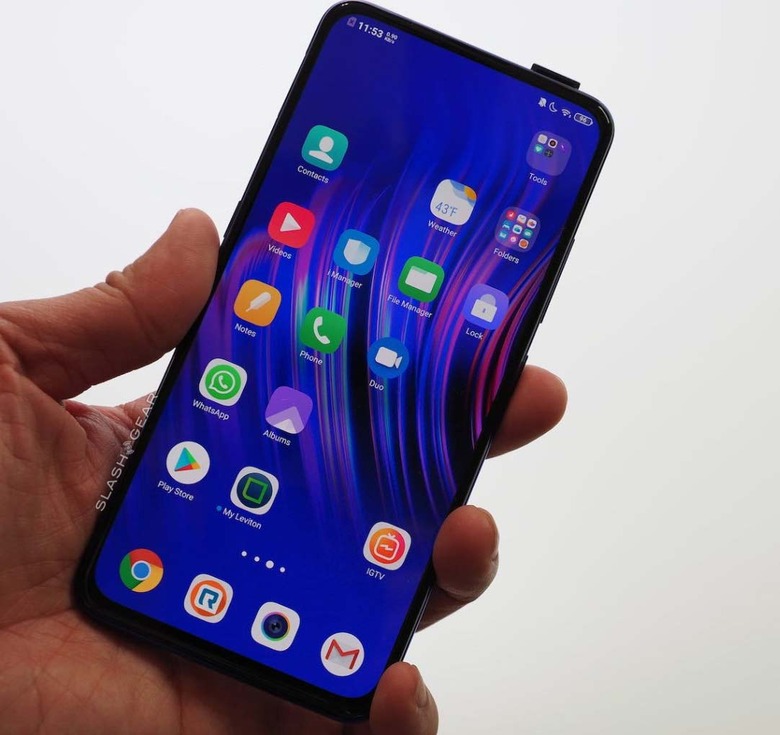 The OnePlus 7's front camera will appear when activated. It'll pop up like a periscope on a submarine. This front-facing camera pod will sport a 16MP f/2.0 aperture camera – LED flash unknown (probably unlikely). When you've turned off your camera's selfie mode, the camera will pull its head back down into the phone.
On the back of the phone a pair of cameras will be set in the center, vertically. These cameras will be 48MP and 5MP. The larger will have f/1.79 aperture and the smaller will have f/2.4, with pixel sizes 0.8um and 1.12um. There'll be at least one LED if not two on the back, for flash.
Camera features will be at least those offered in the OnePlus 6T, (plus more): AI Scene Detection, Portrait Mode, Pro Mode, Night Mode, Panorama, Time-Lapse, HDR, HQ, Studio Lighting, RAW Image.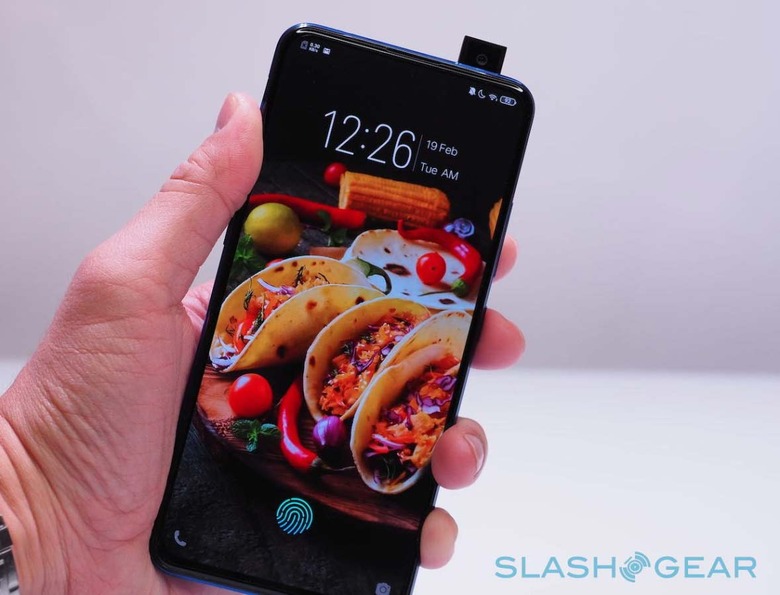 Inside we'll find 5GHz Wi-fi, NFC, Bluetooth 5.0 (with aptX and aptX HD), GPS, GLONASS, BeiDou, Galileo. Also onboard: USB 2.0, Type-C, Support standard USB, Type-C Earphone, Dual Nano SIM Slot. Sensors include Hall,  Proximity, RGB Ambient Light Sensor, Accelerometer, Gyroscope, Electronic Compass, Sensor Core.
The OnePlus 7 will almost certainly be revealed and released in mid to late May, 2019. We'll see an early iteration of SOME of its features at Mobile World Congress 2019, including some 5G action. Stick around for more information, coming up quick!