OnePlus 7 may usher in new era of choices, but you'll go black anyway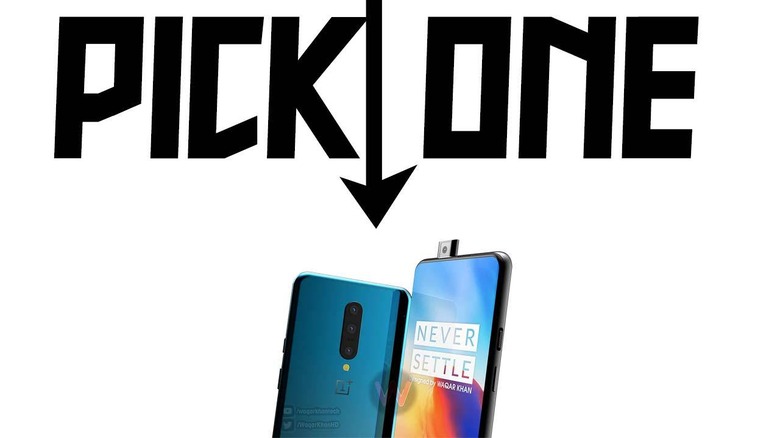 We're nearly upon the release date (and the reveal date) for the OnePlus 7 and its lovely pop-up camera. What we've bore witness to here in the weeks before official reveal shows a tantalizing proposal. What if you had a phone that presented all the essential elements in a top-tier Android smartphone here in 2019, complete with a no-notch, no-camera-hole display, all in a package that's affordable?
The OnePlus 7 was recently rumored to come in three variants, one each for a standard version, a "Pro" version, and a 5G edition. They'll likely be called OnePlus 7, OnePlus 7 Pro, and OnePlus 7 Pro 5G. It's unclear at this time whether OnePlus will release their 5G edition at the same time as the others – or if they'll wait a bit for 5G to be active in a bigger way here in the USA.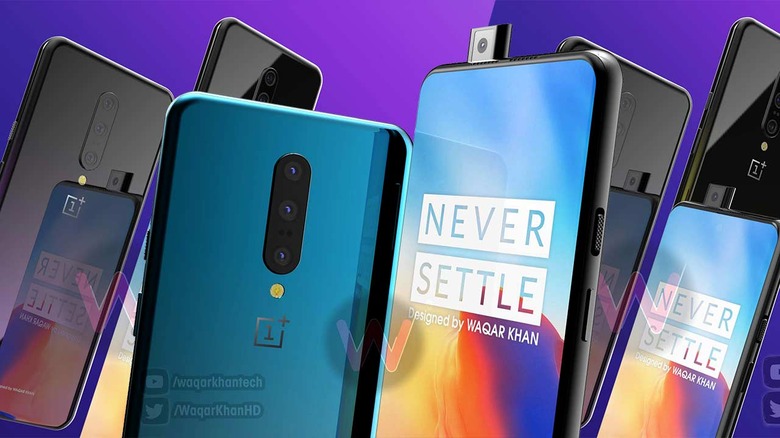 It's been tipped that the OnePlus 7 has a 6.5-inch display with tech similar to that of the 6T, Optic AMOLED, 16-m colors, Gorilla Glass 6 (or newer?) and 1080 x 2340 pixels across its face. Inside we'd be shocked if the phone didn't sport a Qualcomm SDM855 Snapdragon 855 with Adreno 640 GPU and at least 128GB internal storage and 8GB RAM.
OnePlus 7 was tipped to be just a tiny bit taller and thicker than its predecessor (6T) at 161.3 x 76.1 x 8.8 mm (6.35 x 3.00 x 0.35 in). This device likely has a set of cameras on its back that are 48, 20, and 5MP strong. The smallest is likely a depth sensor, while the largest probably has PDAF and OIS and an f/1.8 aperture. Cross your fingers for a 4000mAh battery, too.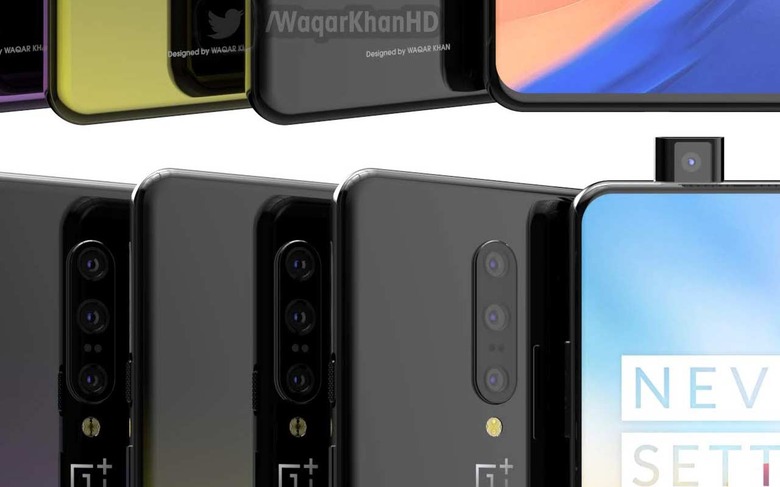 OnePlus 7 Pro will likely sport a set of specifications quite like those of the standard OnePlus 7. It MIGHT have a larger display, at 6.67-inches, but most likely we're going to see a device that's pretty comparable to the OnePlus 7 in most respects.
NOTE: Rendered images in this article were rendered by WaqarHganHD. This conceptual designer used rumored size, specs, and imagery from various sources to create these devices well in advance of official imagery. You'll notice another bit of rumored choice in the mix: multiple gradient color schemes.
You'll see something like, oh, maybe, OPPO F11 Pro, maybe? We're also expecting the original Black, which is generally the most popular color for any phone, in the history of the world – but we'll see if you go nuts or stay basic... we'll just see.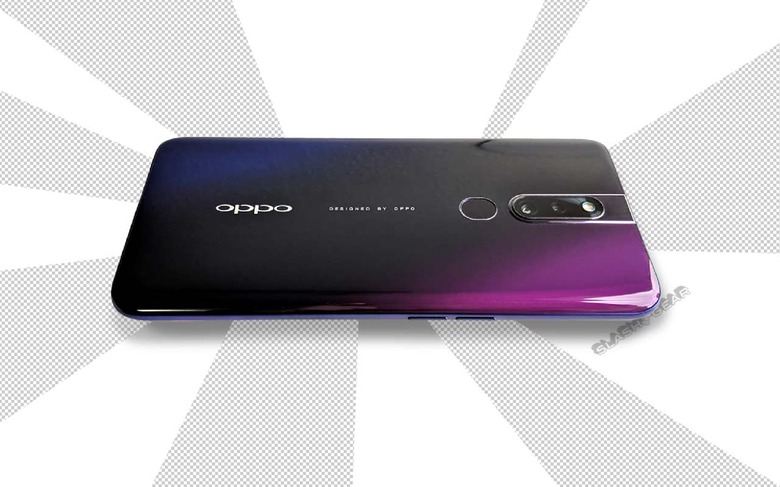 It's been rumored that the 5G version of the smartphone will have a Qualcomm Snapdragon X55 modem. That's the "world's most advanced commercial multimode 5G modem" according to Qualcomm. But that'd also mean the phone would have a Qualcomm Snapdragon 865 SoC, if I'm not mistaken, which shouldn't be released until early 2020.
The more likely situation is the addition of a Snapdragon X50 5G modem. The X50 was made to be paired with the Qualcomm Snapdragon 855, which is already ready to go, and will likely be sported by the OnePlus 7 proper, too.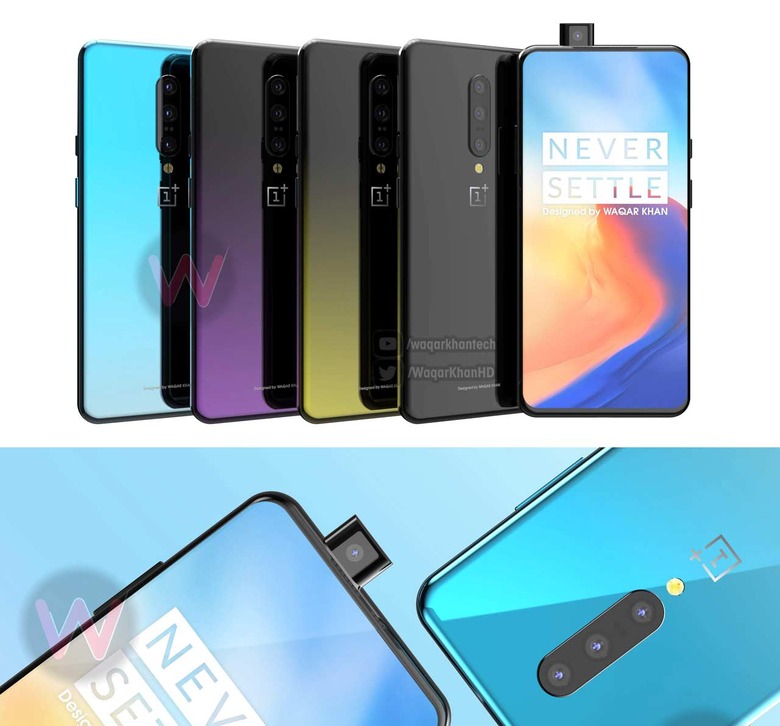 The price of the OnePlus 7 will probably match that of the most recent release, the OnePlus 6T. Unless they do indeed make a Pro version – that'd cost a hundred dollars or more, and a 5G version could be up to 300 dollars more – again, according to rumors from anonymous sources.
We're expecting that the OnePlus 7 will be released on May 14th, 2019. That's right around the same date as the last few years of OnePlus smartphone releases in the first half of the year. Nearer the tail end, we'll likely once again see a "T" variant of the phone or phones, with ever-so-slightly more advanced specifications.