OnePlus 6 specs leak while 5T sells out in North America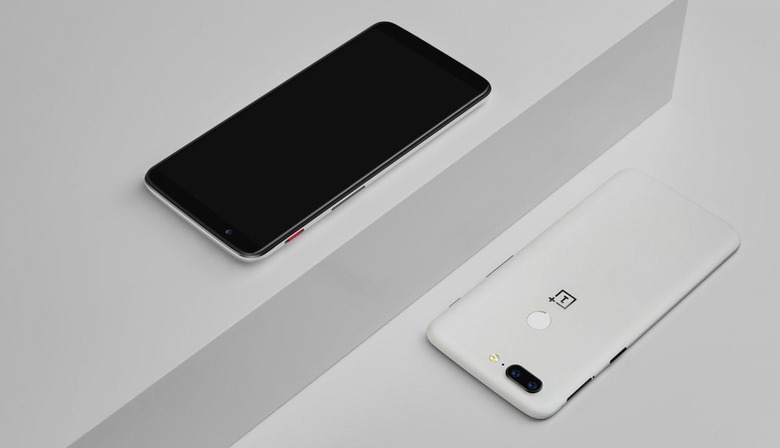 It should come as no surprise to OnePlus fans that we're hearing more details on their next smartphone model, the OnePlus 6; after all, the company is almost literally on a six-month update cycle with its subsequent "T" upgrades. But that's the situation we find ourselves in today, as a set of specs for the OnePlus 6 have leaked, setting expectations for the device that will probably debut before summer.
The details come from a list of specs for a OnePlus model currently known as the "A6000," although it's almost a guarantee they'll go with the name OnePlus 6 for release. While the list was first obtained by the site Techslize, it's not clear where they got it from; however, adding legitimacy is the fact that the specs are perfectly in-line with what we expect from OnePlus' yearly upgrades, not to mention what should be found in any Android flagship for 2018.
According to the leak, the OnePlus 6 will ship with a 6.28-inch AMOLED display featuring a 2280 x 1080 resolution, and be powered by a Snapdragon 845 processor. That will be paired with 6GB of RAM, 128GB of storage, and a 3,450 mAh battery. On the back will be an impressive dual-lens camera with 16MP and 20MP sensors and a f/1.7 aperture, while the front facing camera will be 20MP with a Ff/2.0 aperture.
Like any new phone release these days, Android 8.1 Oreo should be the operating system at launch, and it's a safe bet the OnePlus 6 will borrow the 5T's design in ditching the front button and placing the fingerprint sensor on the rear.
Speaking of the 5T, OnePlus confirmed to Engadget that all of its stock for the North American market has been sold out, and there will not be any more produced. The phone-maker says they experienced a stronger-than-expected demand for the phone, resulting in only about four months of availability.
SOURCE Techslize