OnePlus 6 specs confirm it's an Android powerhouse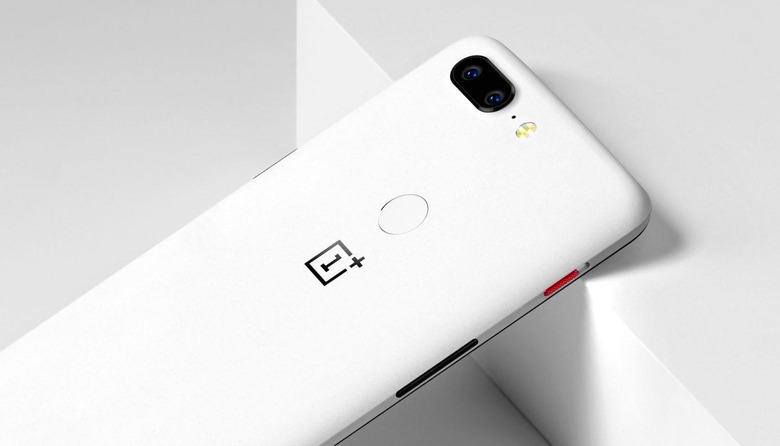 The first confirmed hardware details of the OnePlus 6 have begun to spill, with the popular Android smartphone maker announcing what will be at the core of the upcoming handset. In the process, it has confirmed rumors that the OnePlus 6 will be a direct competitor to flagship smartphones like Samsung's Galaxy S9 and the iPhone X.
In a post in the company's forums today, OnePlus CEO Pete Lau announced that the handset would use Qualcomm's Snapdragon 845 chipset. It's a decision that has been widely rumored for the past few months, as speculation about the OnePlus 6 grew. Lau also confirmed some other core hardware information.
For example, the OnePlus 6 will have up to 8 GB of RAM, Lau wrote, and 256 GB of storage. The latter is double what the rumor machine had been predicting, while speculation had pegged RAM at 6 GB, like Samsung offers in the Galaxy S9+. According to the CEO, there's a good reason for all this power, beyond just bragging rights.
"We believe a truly "burdenless user experience" can transcend the current norm," Lau suggests, arguing that smartphones can often feel intrusive with notifications and frustrating with lag. "In experiential terms this means the phone functions just the way you expect it to, without lag or disturbance. In design terms, a focus on beauty in simplicity, with no unnecessary features added."
It's not an unusual commitment, of course, and few smartphone makers would launch a new device with the admission that it was going to be slow. However, Android has gained a not-entirely-undeserved reputation for being a platform of handsets that are quick when fresh out of the box, but over time bog down. That, it seems, is the OnePlus 6's key area of improvement.
"Fast is not just about shorter loading times or top download speeds, any OEM can achieve high numbers in one or two metrics," Lau points out. "Fast is about creating a lasting impression of speed and smoothness, throughout all-day use, whether you're recording 4K video or browsing Facebook."
That prompted the creation of a new division within OnePlus, dubbed Team FSE for "Fast, Stable, Efficient". It's responsible for ensuring the company's smartphones are smooth across the board.
Of course, the flip side of high-end specs like these is that the OnePlus 6 is unlikely to be a cheap phone. That may come as an unwelcome surprise to those who've grown used to the competitive pricing of the company's previous devices. Still, if it can deliver not only performance but lasting performance, that longevity might make the OnePlus 6 worth a greater initial outlay.