OnePlus 2 vs Moto X Style - which one "potentially" deserves your money?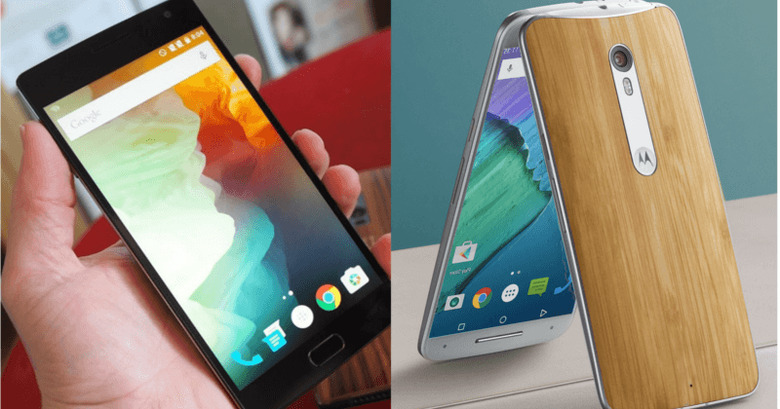 Last week we saw not one but two mid-year racehorses make their way into the smartphone tracks. One an established veteran in the industry, the other almost a David in comparison, both putting out mouthwatering offers. But at the end of the day, unless you have the money to spare, you will choose only one. Is the OnePlus 2 really worthy of all the hype the startup generated? Or was the Moto X Style able to repeat the magic of the original Moto X in 2014? Pending a full blown review, we do a spec and feature side-by-side to get a preliminary appraisal.
Raw power
Let's jump right into the important specs that drives these smartphones:
UPDATE: Fixed image to show the Moto X Style having a Hexa-core CPU.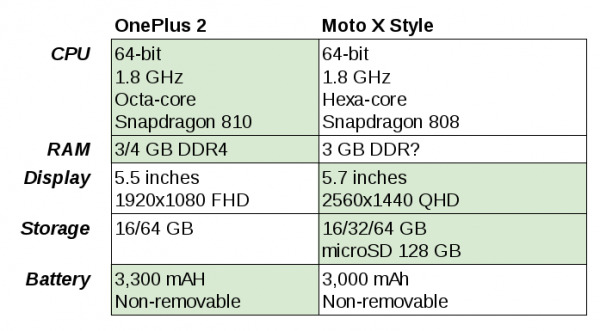 At first glance, the OnePlus 2 seems to win when it comes to raw processing power, with a beefier CPU and faster RAM technology, not to mention more RAM at the high end. That said, the Snapdragon 810 may actually be a liability instead, unless OnePlus has really managed to curb its notorious heat problems. The Moto X Style does boast of Motorola's "Mobile Computing System", which offsets some of the natural language processing and contextual processing load to dedicated chips. The Moto X Style also offers more storage capacity options plus a microSD card slot for even more space.
In terms of display, though, the Moto X Play does have the upper hand with more pixels per inch than the OnePlus 2. That said, OnePlus remains convinced that there isn't much practicality to a 2K screen, especially at a 5.5-inch size. Plus, it also means that the CPU and battery are less taxed, leading to longer life.
Speaking of batteries, the OnePlus 2 does offer more, but there's a catch later that might make that advantage a bit moot. Both don't have removable batteries.
Winner: Tie. OnePlus in power, Moto X in display and storage
Design

Obviously, the OnePlus 2 is smaller than the Moto X Style, but this time around OnePlus changed its song just a bit. For the main body itself, it opted to go with a magnesium alloy frame and stainless steel accents for a more premium look. It shifted the design a bit, especially on the front face, to make room for a fingerprint scanner, but overall, the design is largely the same, especially with the slightly curved back. In contrast, Motorola stuck to its guns, employing plastic as before. The backside curve is also more pronounced than the OnePlus 2, which, in theory affords a better grip. Both sport a metal strip at the back and both look rather odd.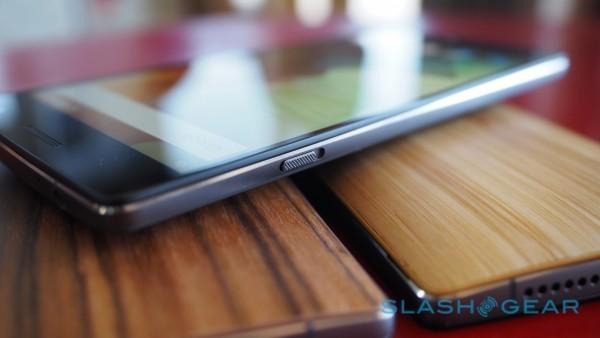 Both smartphones advertise customizable back covers, but nothing really beats the Moto Maker in terms of options. True, OnePlus does have more eccentric options among its limited choices, but that's all there is to it. That said, we're still not sure what options will be available for the Moto X Style this time around, but we can bet it will carry on the tradition.
Winner: Tie. OnePlus in base design, Moto X Style in customizations
Photography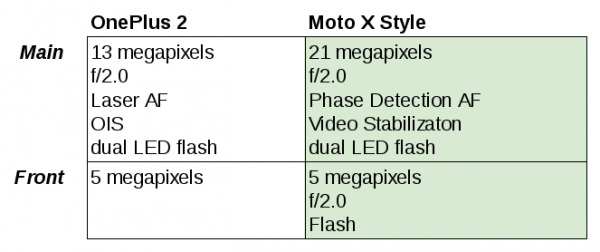 Smartphones nowadays are no longer just about calls or messages, or even about surfing and games. The high-end ones most especially are portable digital cameras as well. Now, we all know that when it comes to photography, megapixels aren't everything, but it's pretty clear that the Moto X Style wins in all but one aspect: the lack of a laser auto focus system. DxOMark agrees that the smartphone could be one of the best in this year's contenders, though it hasn't had any time to spend on the OnePlus 2.
When it comes to selfies, on the other hand, the Moto X Style wins the spec battle hands down. With megapixel counts equal, Motorola's flagship has the advantage of a bigger lens aperture, wide angles, and a flash.
Winner: Moto X Style
Value-added features

Smartphones are hardly simple devices anymore. Many are equipped with loads of sensors that can almost turn them into mini weather stations. While the OnePlus 2 seems to lead the way with a fingerprint scanner, that's practically where it stops. Co-founder and Head of Global Carl Pei is adamant that NFC is not really a big deal these days, though that stance has seemed to run afoul of OnePlus' own fans. The lack of Quick Charging is also perplexing and OnePlus has yet to provide a satisfactory response to that as well. Admittedly, the Moto X Style gets hurt with no fingerprint sensor, though some contend that it's really on the same level as NFC anyway. All things considering, it offers more bang for the buck in terms of added features, especially when you take into account its suite of Moto apps.
Winner: Moto X Style
Price and availability
The OnePlus 2 has only two price options, no questions asked. $329 for the 16 GB model and $389 for the 64 GB. It's naturally higher than the previous generation but at least not as high a jump as we feared. In contrast, the Moto X Style, which will be sold as the Moto X Pure Edition in the US, has a higher starting point at $399. Add all the customization options and storage and you will probably be looking at an almost $450 tag at the highest.
The OnePlus 2, sadly, is still crippled by its invite-only system plus its limited market reach. While you are unlikely to get the same Moto Maker options outside the US and one or two other countries, the Moto X Style is at least more accessible. At least in theory, as we still have to hear about Motorola's concrete launch plans. The few tens of dollars you pay, however, might save you from the anxiety of waiting for an invite.
Winner: Moto X Style
Wrap-up
Preliminary Verdict: Moto X Style
A smartphone is more than just the sum of its specs though they can give us a baseline to work with. One has to look at things from a wider perspective to appreciate what a smartphone can offer. While the OnePlus 2 definitely win in some aspects, particularly in theoretical performance, the Moto X Style trumps it when it comes to an overall package. While more expensive than the OnePlus 2, it offers more reliability, peace of mind, and availability.
That said, a lot of the pieces are still missing from the big picture. And while all of these look solid on paper, they might not mesh in reality. So wait for our in-depth review of Motorola's latest wonder to see if it can really live up to the expectation.