OneNote MX preview hits Windows Store with Metro UI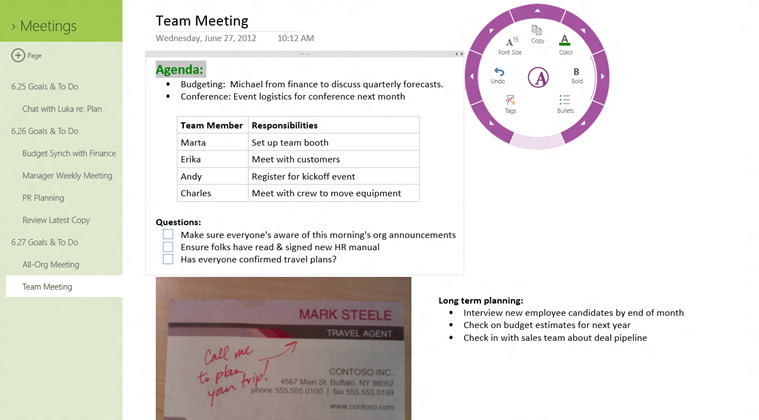 Microsoft's first Windows 8 Metro style Office app, the tablet-centric OneNote MX digital note-taking software, has shown up as a preview release in the Windows Store. Among the tidbits seen officially for the first time is the new radial touch menu, with easy navigation buttons along with quick access to font formatting, copy, bullets, and undo. The app will work on all Windows 8 PCs, but will be particularly useful on tablets like Microsoft's own Surface.
The app also picks up Metro's multi-pane interface, sliding notebooks, folders and individual notes across each other, left to right. There's support for lists with check-boxes, along with custom formatting including bullets, colors, tables and more.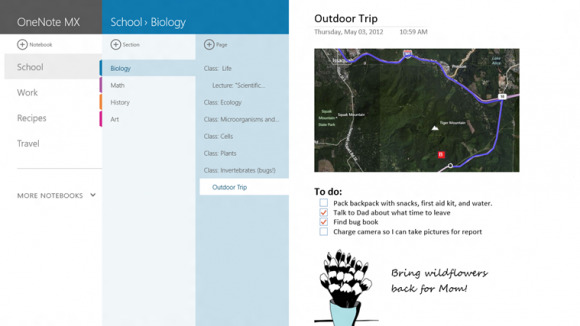 Meanwhile there's also stylus support, with the ability to make handwritten notes as well as sketch diagrams and pictures. That's been present in OneNote for years, of course, complete with the special search functionality that allows the app to find matching results even in handwritten text not converted to print.
However, OneNote MX also ties into Windows 8's own search, and can also take advantage of the camera on Windows machines to snap photos and then insert them into notes. Metro's Snap View – which allows two apps to share screen space simultaneously – is also supported, making for easy referencing of sites and other documents while notes are taken in OneNote.
If you have a Windows 8 Release Preview device you can download the OneNote MX preview from the Windows  Store here. There's more on Office 2013 here.
[via Pocketables]