On That Chromebook Free 3 Month Disney+ Subscription: Read The Fine Print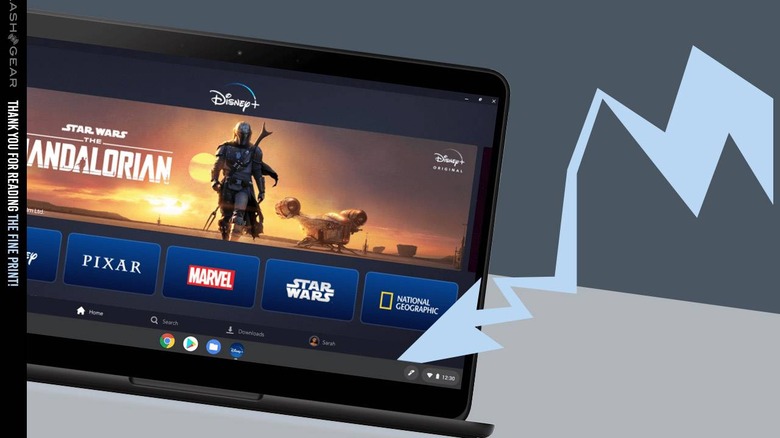 The folks at Google behind the Chromebook "Offers" and "bonuses" system worked with Disney to connect with the newest, biggest streaming media service Disney+. When users "activate" a new Chromebook this late 2019, they get three free months of Disney+, but there is some fine print. First, you'll need to have a "new" Chromebook – the parameters of this aren't exactly clear up front, but chances are you're gonna have to have a Chromebook that's still up for sale as a "new" device in stores right now.*
It'd be completely bonkers to go purchase a Chromebook right now JUST to get three "free" months of Disney+. You could just pay $21 for those months (approximately $7 per month), and avoid buying a Chromebook for... hold on, there are Chromebooks that cost less than $200? Madness! Therein lies the rub: You're meant to start thinking about how you could get this deal the cheapest, completely skipping the part where you think "do I want these things in the first place?"
SEE TOO: The Disney+ Hulu bundle has one major oversight
*UPDATE: Google's official terms and restrictions for this "offer" suggest the following. "Offer valid only for Chromebooks activated between November 25, 2019 and January 31, 2020 or while supplies last. Offer must be redeemed by January 31, 2020."
Much like the other "free" ways to gain access to Disney+, this one does not automatically end when the free three months are through. Once they're done, you start to pay, automatically. When you sign up for your free Disney+ subscription, you need to give them your credit card number.
Per the official Chromebook Disney+ terms: "Upon redeeming this Offer, Participant will be enrolled in an auto-renewing monthly subscription of Disney+ and at the end of Participant's 3 month promotional Offer, Participant's credit card will be charged the standard renewing subscription price of USD $6.99 per month (plus tax, where applicable) unless Participant cancels their subscription before the promotional Offer is over."