OMGPOP CEO Dan Porter leaves Zynga after one year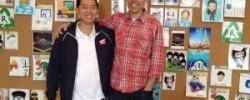 A little past a year after Zynga acquired OMGPOP, OMGPOP CEO Dan Porter has decided to leave the company. It's believed that Porter's departure was a mutual decision between him and Zynga. He left just before the sequel of his popular social-game, Draw Something, is set to release. He will be replaced by Zynga's current General Manager, Sean Uberoi Kelly.
His departure could have something to do with the comments he made a few weeks ago about Zynga copying games from other companies. He says that his statements were taking out of context, and that what he meant was that Zynga's games are derivatives of other games, which isn't anything new in the gaming industry. Nonetheless, his statement angered Zynga CEO Mark Pincus, who demanded that Porter apologize, or else he would be fired. While Porter did apologize, there may have been some residual bad blood between the two afterwards.
Despite Porter's departure, Zynga is very optimistic about the launch of Draw Something 2, which was leaked last month by radio show host Ryan Seacrest. Zynga's Chief Operating Officer, David Ko, stated that the company is proud of the work the Zynga New York Team has done and that Draw Something 2 should be more engaging than the original. He stated, "We thank Dan Porter for his efforts in making the Draw Something franchise a success and wish him well in his future endeavors."
Zynga purchased OMGPOP last year on March 21st for around $210 million. It paid $180 million in cash and the other $30 million in retention. The company purchased OMGPOP after seeing how successful its Draw Something game was. Within six weeks after Draw Something was released by OMGPOP, it was downloaded 35 million times. Sean Uberoi Kelly has some big shoes to fill, however, considering he released CityVille, a social game that attracted over 100 million players within one month, he should be fine.
[via TechCrunch]