Olympus Tough series cameras get video demo : crush, drop, freeze and submerge at PMA 2009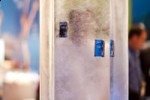 Since there's no sight of new DSLR announced from the top-three so far, rugged cameras are probably one of the highlights in PMA 2009 asides from the Superzooms. Among the few, Olympus has the best presentation to simulate their 4th-gen Tough cameras workability in extreme conditions.
At the Olympus booth, we get to play with the only DSLR announced so far (E-620), but what caught our attention is the their tough cameras' presentation. Last time our reader mentioned having video clip to show its ruggedness, you get your wishes, folks. The Rugged Camera Expert has put words in action. In this video demo, you'll see the new Stylus Tough series cameras get pressed at 188lb, dropped from 6-feet, submerged completely in water, and nothing went wrong; it still worked. (video after the cut)
[vms 0610b44d9b9fed0ff954]
Both cameras have previously announced from CES 2009, the Styles 12MP 8000 costs $399 with better physical strength while the 6000 gets 10MP with $100 less.