Olympus PEN E-P2 Micro Four Thirds camera now shipping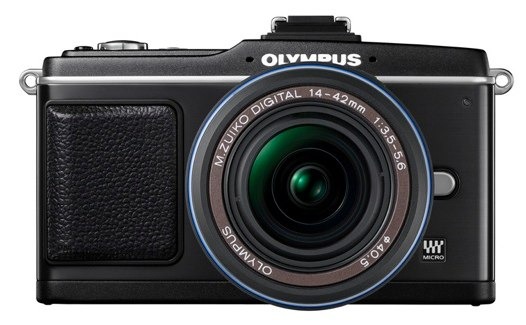 We may receive a commission on purchases made from links.
Micro Four Thirds lovers, break open your piggy-banks now!  Olympus' PEN E-P2 digital camera has finally gone on sale, having been announced all the way back in early November, but the price still isn't any easier to swallow.  Amazon and various other retailers have the E-P2 – which packs a 12.3-megapixel sensor and interchangeable lens support into a compact body – priced at $1,099.
Your money gets you the E-P2 itself, together with a 14-42mm f/3.5-5.6 Zuiko digital zoom lens and the new Electronic View Finder that can be used – courtesy of the PEN's hot-shoe – instead of the 3-inch Live View LCD.  Compared to the original PEN E-P1 (which will remain on sale alongside the new model) Olympus have added a continuous autofocus tracking system which can be used in both still and video modes, among some other tweaks.
We're yet to see listings for the optional microphone adapter attachment, that also uses the E-P2's hot-shoe (though not at the same time as the EVF, it's worth noting).  Expensive, then, and somewhat niche, but we reckon those who can afford it will probably be pretty pleased with their dinky new Olympus.
[Thanks Ron!]