Olympus, Panasonic & Sigma DSLR lenses get joint update system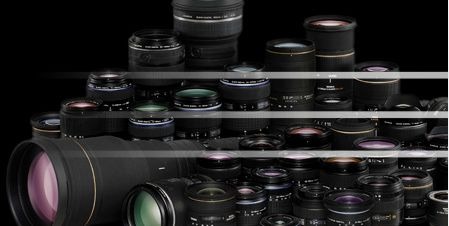 Olympus, Panasonic and Sigma have collaborated to launch an online firmware update service for Four Thirds compliant DSLR lenses.  The system will allow owners of Four Thirds lenses to update their optics even when using cameras made by another manufacturer; in the past, a DSLR camera body and Four Thirds lens had to be from the same company in order for firmware updates to work.
The new system makes it possible for cameras and lenses from Panasonic and Olympus to be used interchangeably, as well as DSLR bodies from either manufacturer to be used with Four Thirds lenses from Sigma.  While usability is obviously improved, it also gives owners extra flexibility in price and functionality.
Hopefully other manufacturers are considering signing up to the service, as it would be great to see Canon in that list.  For full details check out the website here.
Press Release:
"Joint update service for Four Thirds lenses" launched

Olympus Imaging Corporation (hereinafter "Olympus"), Panasonic Corporation (hereinafter "Panasonic"),and Sigma Corporation (hereinafter "Sigma") have joined forces to launch an online firmware update service that will enable users to easily update the firmware in interchangeable DSLR lenses compliant with the Four Thirds System Standard, even when the camera and lens are not made by the same manufacturer. Scheduled to start on October 15, 2008, this new joint service is the first of its kind in the industry*.

The way it works is simple. After mounting the lens on the camera, the user can go online and update the lens firmware by downloading the latest lens firmware. Previously, lens firmware could only be updated when the lens was mounted on a camera made by the same manufacturer – for example, an Olympus lens on an Olympus camera or a Panasonic lens on a Panasonic camera. If the mounted lens was not made by the same manufacturer as the camera, then the lens firmware could not be updated regardless of whether or not the mounted lens is compliant with the Four Thirds System Standard.

This new service makes it possible to update the firmware of a Panasonic lens on an Olympus camera or vice versa. Similarly, the firmware in a Sigma lens can also be updated on either an Olympus or Panasonic camera. For more details, please click on one of the following links. The information provided also includes details on firmware updating.

Links

For Four Thirds lenses and Olympus Camera Users

For Four Thirds lenses and Panasonic Camera Users

For Four Thirds compliant Sigma lenses Users

*Sigma lens firmware does not need updating as of October 15, 2008.

"Four Thirds System Standard" Web Site

http://www.four-thirds.org/en/products/download.html