Olympus LS-100 Sound Recorder Review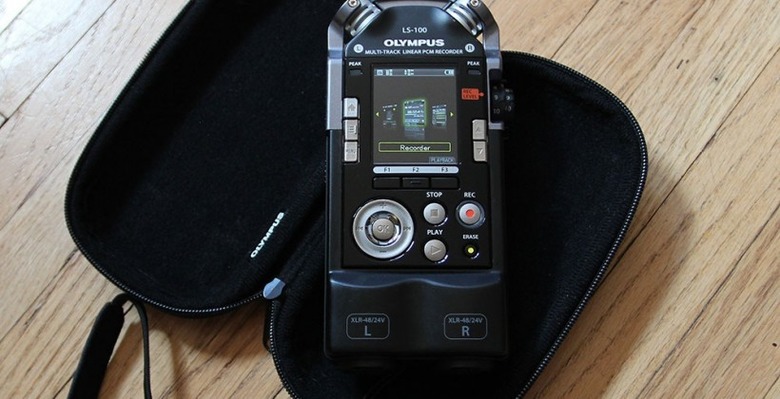 It's time to take a peek at a sound recorder the likes of which we don't see very often around these parts, the Olympus LS-100, fully equipped to be your mobile recording studio on the go. What you've got here is a sound recorder that can act on its own completely independent of add-on accessories, or it can be the hub that brings your sound recording game up to professional level in a snap. Inside the box you've got the device, a strap to ring it around your wrist if you like, a simple manual, and a lovely Olympus carrying case – and that's all you'll need.
Hardware
This device is made for sound recording with either its two built-in microphones or via inputs for 3rd party devices. The two built-in stereo condenser microphones are angled at 90 degrees away from one another and support 140 dBspl of sound pressure. With your built-in microphones you'll be able to record dual-track sound clips and monitor left and right recordings independently.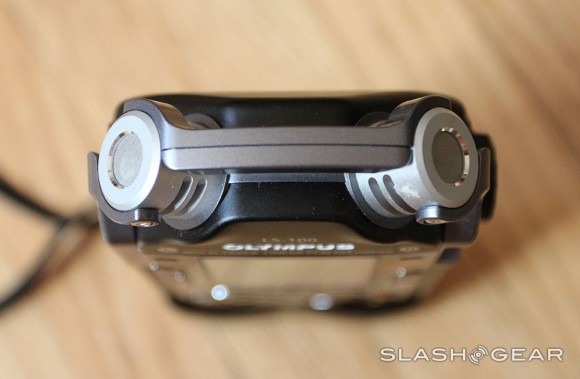 You've got two XLR inputs for your whole collection of line-out sources using a 1/4 inch RCA jack – like your electric guitar, for example, and you've got 48V-24V of phantom power to keep you rocking and rolling with devices that require power through their cords as well. This will reduce the amount of power you've got on the LS-100 quicker than if you were only working with the devices' built-in microphones, but you'll have plenty of time to record tracks galore no matter what.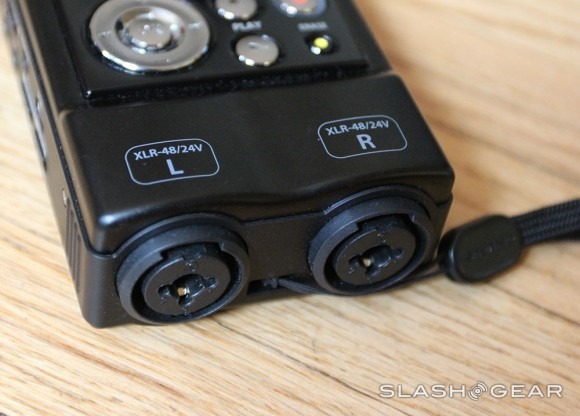 You've got a two channel recording system here with eight channel playback. You can record, edit, and mix your tracks onboard – in a relatively simple manner, of course, you don't want to be making massive changes on a small screen like this – and you can burn a CD from this device without a PC at all if you like! We don't recommend doing this as it's such a strange situation – might as well push the track to your PC for safekeeping anyway – but it's fun to know that you're able!
Onboard you've got 4GB of storage, which is a fabulous amount, but you've also got a full-size SD card slot (SD, SDHC, or SDXC) as well to expand by up to 64GB. You'll be able to store all your files on that card and transfer them that way or you can work with the device's built-in USB port if you wish.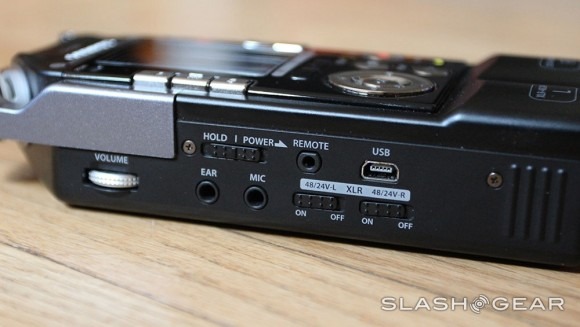 This device supports remote controls through its tiny remote port – Olympus has a massive collection of accessories for this device (we haven't had the chance to mess with them yet, mind you, but we can say that the price is right) – see them listed over at [OlympusAmerica]. The remote they've got in stock works with start/stop/pause functions and that's it. The LED light lets you know you're in business and that's it – good to go!
Of course you've also got an earphone jack so you can see how your recording is going as you're working with it, and you've got the ability to switch your left and right inputs on the fly with two physical switches between 48/24V. The left side of the device is where you'll be working with most of your ports and switches, with the power switch being there near the volume for playback as well.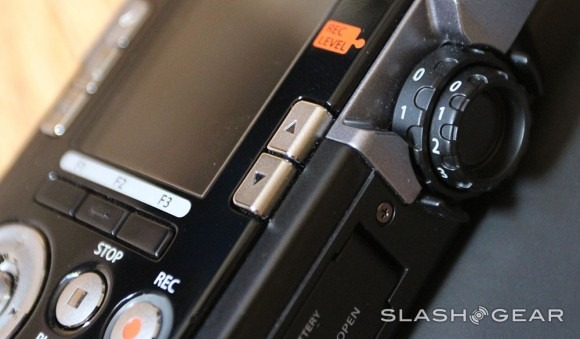 The massive knob you see in the right of the device is marked by a red rectangle with "REC LEVEL" on it so you know not to mess with it unless you mean to. Both left and right built-in microphones sit up top near "PEAK" LED lights that let you know when you're maxing out, and the front of the device shows you everything else on a 2-inch LCD color display. This display is no match for a high-end smartphone in that it's certainly not high definition, but the amount of color and detail that you DO get is extremely helpful in identifying variations in tracks and editing.
The display has a user interface that's easy to learn and rather simple to use. There are a few points at which even I had trouble figuring out how to move backward or forward due to the massive amount of physical buttons controlling the interface at any one given time – but that's probably just my modern brain being used to a touchscreen-only UI. This device's display is NOT a touchscreen, I should mention, and we're thankful for that. At this size, even my relatively small fingers would have trouble being accurate.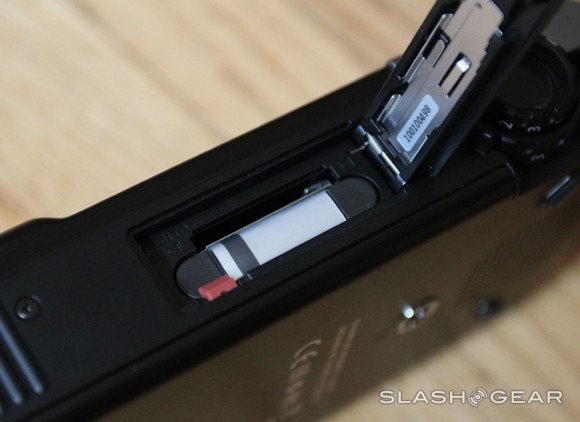 The battery inside this device is 925 mAh, certainly not giant when you compare it to the beasts that modern smartphones and tablets have, but when you're only powering sound recording and a tiny display, that power goes a LONG way. One of the sound samples you're about to hear comes from the press junket for the film Total Recall where I recorded several hours worth of material in all – the battery went strong through the whole event and was STILL at 2/3 full – believe it or not!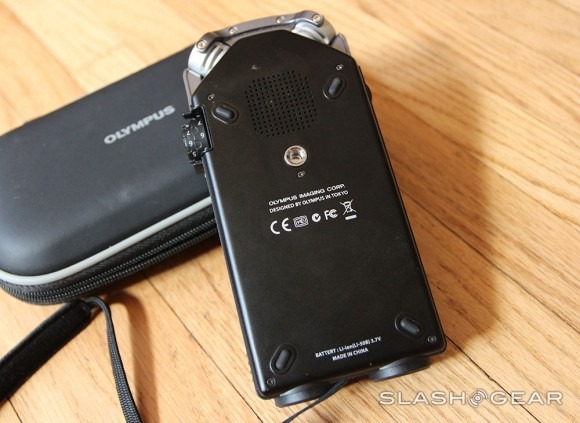 The whole unit measures in at 3.25 x 2.75 x 1.31 inches, aka 159.0 x 70.0 x 33.5mm, and weighs in at 280g aka 9.8 oz. You get an AC adapter with the package to charge up your battery as it sits inside the device (though it is removable, we should mention), but you'll need to pick up all other cords on your own.
Sound Quality
Though we've done our fair share of audio device reviews at this point and do consider ourselves fairly sound-sensitive, this device did require a step back and a humbling to realize what we were hearing. Speaking with some audiophile friends of ours as well as checking with some associates from 3rd party groups also reviewing the device, we confirmed the same thing, time and time again. This device records sound just as well as Olympus says it does. "Better than CD quality" is what we're hearing both from the device and from our associates testing the device around the world.
You're able to capture audio at up to 96kHz/24 bit – that's massive – CD quality you can measure at 44.1 kHz/16 bit. You of course also have the ability to drop your recording quality down to that point if you want normal-sized files, of course, but the idea that you're able to record at fabulous high-quality such as you're able here – it's certainly nice to know you're getting what you payed for.
You'll find that the pre-amps in devices such as these – the LS-100 being no exception to the rule – are far more high-quality than any DSLR camera we've had on hand. One would hope so for the cost of this device, of course, but there it is: high quality from a sound recording device made specifically for sound recording.
We've got a couple example clips of sound here for your listening pleasure, each of them recorded with the built-in microphones right out of the box.
Above: in San Francisco near Moscone Center during Google I/O 2012 as an emergency vehicle passes on the street. Below: at Total Recall press junket in Los Angeles with director Len Wiseman.
Special Features
This beast works to record sound like a superstar, but it's also got tools you can use to your advantage for pre-recording supremacy as well. You've got a metronome here as well as a tuner and you've got a pre-recording buffer built in to make sure you're not missing anything you need in a quick recording.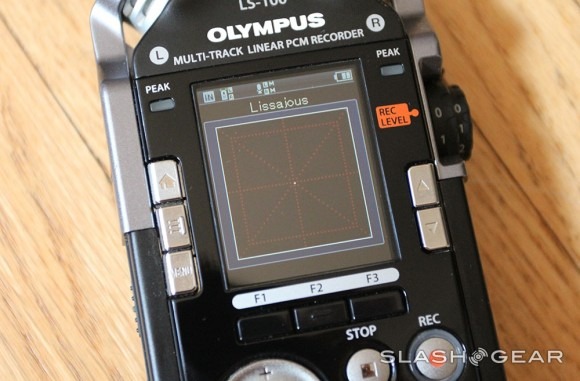 Lissajou – if you've never heard of this before, you're in for a bit of a treat. This feature takes readings from both of its two built-in microphones first. Then it adjusts polar paterns according to its readings. The result is a perfectly timed recording between the two inputs – without this, there's always a chance that you'll have a minuscule delay between two mics – here there's none!
Wrap-Up
When you move to a sound recording device like this with a full color display and more recording options than you'd ever have thought possible on a single hand-held machine, you wont be able to go back to your simpler one-trick-pony recorder. You'll feel terrible using anything less fabulous than the LS-100 once you've got it in the field.
The cost of this device at $399.99 is going to be prohibitive for most of your average hobby users, but should you save up your lunch money for several months to buy it, you will not be disappointed.