Olympus LS-100 Linear PCM Recorder revealed for all-in-one audio prowess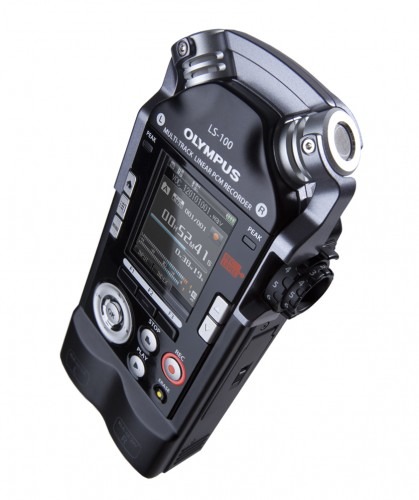 When you first lay eyes on this beast of an audio recorder, you're going to think it's right out of Ghostbusters or the original switches-everywhere Star Trek series, but it's not, it's the new Olympus LS-100 linear PCM audio recording device and it's about to blow the socks off the competition with its ability to record basically anything. This device is actually just the latest in a series of LS-branded recorders from Olympus, featuring two 90-degree directional stereo condenser microphones with the ability to capture both lower-bass frequencies and louder sound "with less clipping" than ever before*. Have a peek at this aesthetic and sonic masterpiece and see if its the monster for you.
This device has two quarter-inch XLR/standard phone combination inputs for any manner of high-quality external microphone or instrument, multi-tracking with two-channel simultaneous recording, and no less than eight-channel playback. If that's not enough for you, you'll be happy to know that this model digitally records in 24 bit/96 kHz Linear PCM, audio quality to blast your ears off in a multi-track environment. Frequencies able to be captured by this device range from 20 Hz to 20,000 Hz, with its microphones able to support sound pressure levels down to 140 decibels – quite the range!
This device acts as what Olympus calls a "musician's toolbox" with a tuner, metronome, and Lissajous measurement. For those of you having no idea what that last term could possibly entail, it's represented by a 2.0-inch backlight LCD on the device and shows the phase difference between the right and left external microphone so that you can get right in the center of the action should you wish to do so. All of your files are able to be saved on the device's internal 4GB memory or through its port which is able to carry SD (up to 2GB) / SDHC (up to 32GB) / SDXC (up to 64GB) cards.
And that's only part of the full party! Details on this device are popping up all the time, Olympus letting us know the true full nature of the device as it comes closer to release time in February 2012. The suggested in-store price for this device is set to be $399 at the moment, and again, the first quarter of 2012 will be when you can get it!