Olympus Limited Edition Komachi kit makes a great Gift Set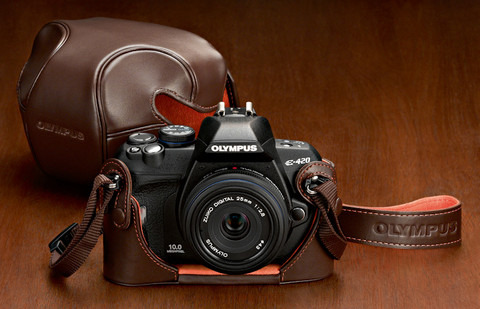 Can't wait for the new E-System? Need a compact DSLR for the holiday's season? Olympus is offering its limited edition E-420 Komachi Kit for the Holidays. A bundle kit comes with the company's ultra compact 10-megapixel E-420 DSLR, a thin profile ZUIKO 25mm 1:2.8 Digital pancake lens with a retro handmade leather case and strap; packs together accessories like a 1GB CF card, LCD lens protector and a lens cloth. Is that not a perfect holiday gift box or what?
The Komachi kit is named after the 9th century famous Japanese poetess Ono no Komachi, renowned for her beauty and elegance. The E-420 is one of the worlds smallest and lightest Autofocus DSLR based on the ultra compact FourThirds system. The unit suits well with The ZUIKO DIGITAL 25mm 1:2.8 ED lens, a wide and thin profile pancake measures in at an overall length of just 23.5mm and weighs merely 95g.
The combo will make an idea walk-around setup. The bundled was priced at $650 when it was announced, while the limited edition Komachi will become available from October 2008 at an estimated street price of $750.