Olympus updated Small Wonder Evolt D-SLR with E420 and a pancake 25mm Zuiko Lens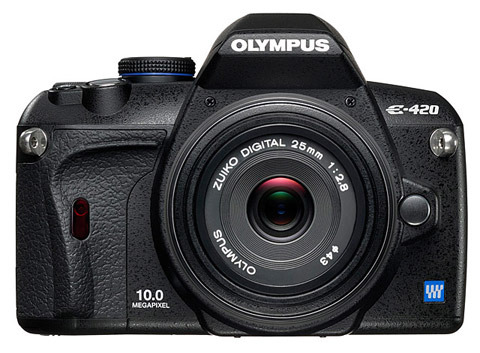 Olympus updated last year's Evolt-E410 with E-420 to carry on the world's smallest and lightest Autofocus DSLR titles. The new Evolt now featured a larger LCD, better handgrip, burst mode, auto white balance, dust reduction, wireless flash capability, and added face detection, autofocus on live view function and last, but not least, a pancake size digital Zuiko lens ED 25mm F2.8. How's that for a compact Evolt with a thin profile wide angle lens?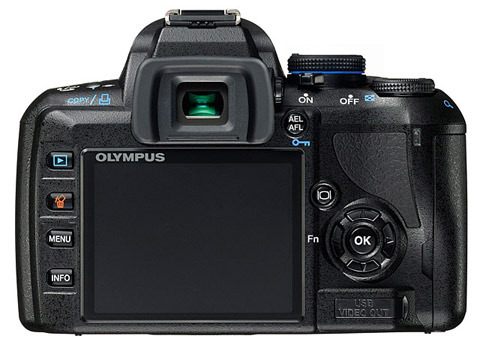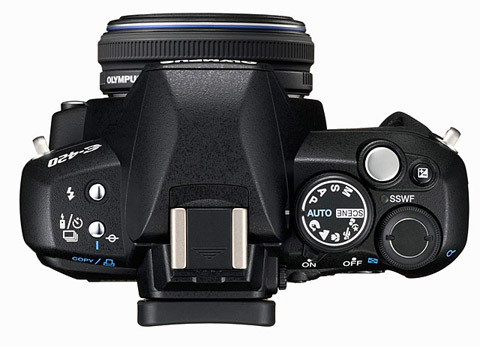 The Ten-megapixel E-420 is based on a Four Thirds-type N-MOS image sensor. The previous 2.5-inch LCD display has been replaced with alarger 2.7-inch screen and added HyperCrystal II™ Technology to further assist the Live View with better brightness, contrast and viewing angles. Memory buffer added a slight improvement with ability to capture 8 raw and an unlimited number of JPEG images at 3.5fps on continue shooting mode. Other features included Supersonic Wave Filter to prevent dust, 28 automatic, semi-automatic and manual shooting options, dual memory slots for CF and xD-Picture and whole lots more for a compact size DSLR.
The pancake 25mm F2.8-F22 Zuiko is less than one-inch thick and has a diameter of 2.5-inch. The 50mm (35mm Equiv) weights a mere 3.35oz and has lens construction of 5 elements in 4 groups. It would be an ideal light-weight and compact-size-walk-around combination for the Evolt-E420. It will cost $250 when it ships in May.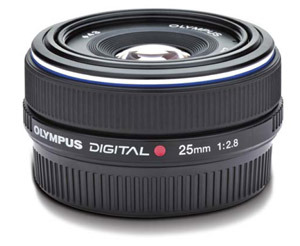 Olympus will ship the new Evolt this May. The price is $450 body-only, $550 bundled with an ED 14-42mm f3.5/5.6 Zuiko Digital Zoom Lens, and $650 bundled with the pancake.
[via press release]