Olympus E-520 10MP dSLR with image stabilization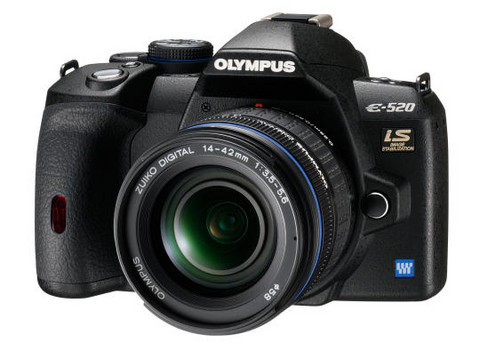 Olympus have announced their latest digital SLR camera, the E-520. An update to the existing E-510, the new E-520 slots in as the big brother to the popular E-420. With the same 10-megapixel Live MOS 17.3 x 13.0mm sensor capable of ISO 100 to 1600 as the E-420, the new dSLR adds sensor-shift stabilization, an increased continuous-shooting buffer (up from 6 RAW shots to 8) and new grip.
They've also fettled the autofocus system, too. Where the E-420 has 3-point autofocus, the E520 has 11-points contrast detection and 3-points phase detection. It still has face detection, wireless flash and Olympus' Shadow Adjustment Technology.
For the dSLR body only, Olympus are asking $599.99 ($150 more than the E-420). However for the body and an ED 14-42mm f3.5/5.6 Zuiko Digital Zoom Lens (24-to-48mm equivalent), as shown in the image above, you'll need to find $699.99. It'll be available in July.
[via Crave]