Olloclip announced 4-in-1 Photo Lens for iPhone 6, 6 Plus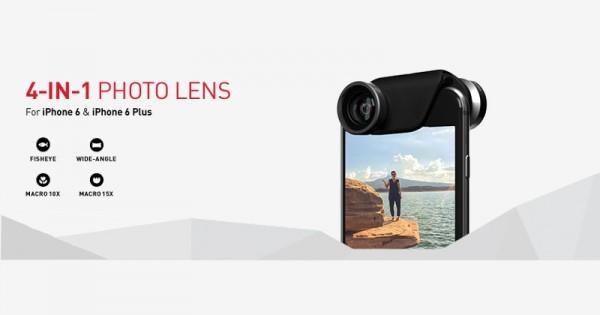 Proving that it is indeed worthy of this year's CEA Innovation Entrepreneur Award, Olloclip has unveiled the much awaited add-on for the new generation of iPhone 6 and iPhone 6 Plus smartphones. This accessory gives users access to four popular and highly desired camera effects, all in one easy to use and remove clip. Add that to the iPhone 6's impressive camera and you've got a champ! Plus, this olloclip can now be worn as a pendant so you can take it around with you anywhere.
Olloclip revolutionized smartphone photography by giving iPhone users a variety of lenses, including fisheye, wide-angle, and macros, that are otherwise available only on dedicated digital cameras, These lenses are available in a discrete and portable little clip that can be easily put on and removed at a moment's notice, And since the features aren't based on software, users can pair up the lenses with their camera app of choice.
This new 4-in-1 photo lens carries on and improves that tradition, sporting the new compact design that works on both rear and front-facing cameras. Simply flip the clip to access the lens on the opposite side. One side houses the Fisheye and Macro 15x while the other side has the Wide-angle and Macro 10x lenses. Now even selfie-lovers can take advantage of the olloclip, especially the wide-angle lens that is perfect for that use case.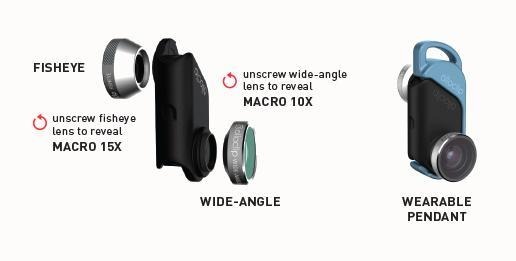 Another innovation in this new edition is that the olloclip can now be snapped on to a pendant. This allows the lenses to be carried everywhere, from around your neck, to a backpack, to a keyring. Considering how almost instantaneous it is to clip it on the iPhone, there really is very little excuse left not to be able to take great shots with various professional effects.
The new olloclip 4-in-1 works with both the iPhone 6 and the iPhone 6 Plus. And to make it look as stylish as it is functional, it can be ordered in varying combinations of black or white clips paired with silver or gold lenses. There is even one configuration with a black clip and red lenses for an added accent. The lenses are now up for pre-order on olloclip's website with a price tag of $79.99. Retail availability starts late November from olloclip and retailers such as Apple and Best Buy.