Olive ONE wants $200k to overthrow Sonos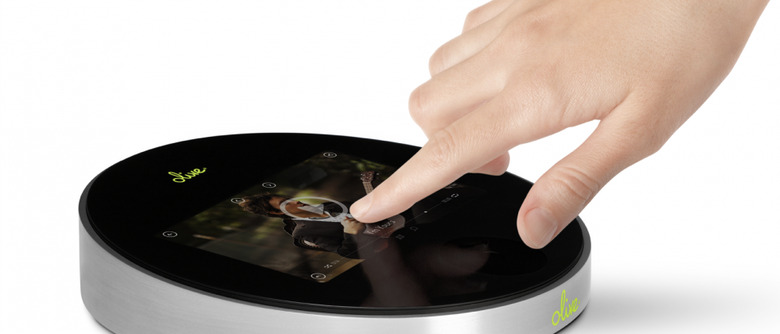 Whole-home streaming audio has a new upstart in the shape of Olive ONE, a touchscreen-blessed Sonos rival aiming to funnel all of your music sources – whether local or cloud-based like Spotify – into a single network. A round console for your coffee table or wall, the Olive ONE works as a wireless HD docking station with audiophile-level DAC and amps, optional internal storage, and a brace of streaming options. However, you can't go out and buy one today; the Olive team has turned to IndieGoGo to fund its ambitious plans.
In fact, the goal is to make it to $200,000 by February 1st, 2013 (at time of writing they're at about $38k) and if things go particularly well then there are plans to open up the design to customization. Out of the box, the ONE is an aluminum and glass hub with a Burr-Brown 32-bit/384kHz DAC (boasting a 112dB SNR) and with dual HD amps for powering external speakers, with a 24-bit DSP, Bluetooth 4.0, and WiFi 802.11n (2.4/5GHz). On top there's a color touchscreen, while inside there's a 2.5-inch HDD bay.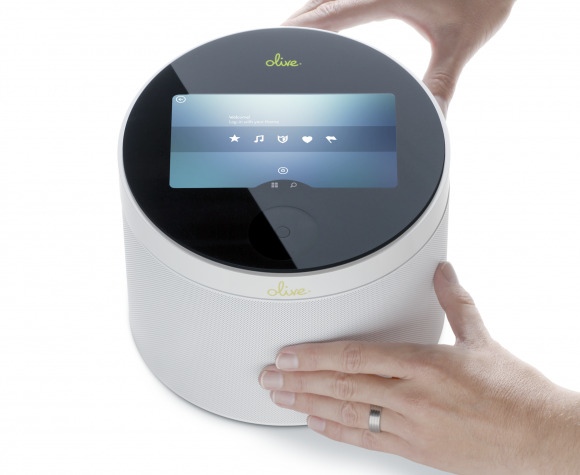 However, if Olive gets to $1m in funding, the plan is apparently to buy the necessary machinery to allow users to customize the external design of the ONE player. If they get to $850,000, then every IndieGoGo supporter who stumps up $399 or more for a unit will get a 1TB hard-drive thrown in too.
Olive ONE overview:
A hard-drive isn't the only option. Olive has also cooked up the so-called ONE BOX speaker, a cylindrical, stackable speaker on which the ONE sits for easier audio. Two ONE BOX units – which can also be wall mounted – can be paired for more traditional stereo separation. There are also plans for a color-changing cylinder, which would shift through various hues depending on your preference and music playback.
Spotify, Pandora, YouTube, Deeza, and other sources are expected to be supported, as well as streaming via Bluetooth, DLNA, WiFi Direct, and other technologies direct from your NAS, computer, smartphone, or tablet. There'll also be phone and tablet remote control apps, and Miracast support for a TV-based interface. The Olive team also says it's left open for other sources that might wish to get involved. Like Sonos, multiple ONE units can be used around the home – either independently or synchronized.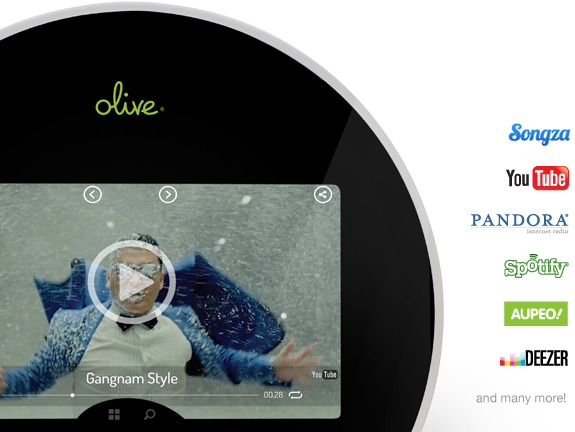 Does the world need another streaming music platform? Only yesterday we were contrasting Skifta's deal with affordable speaker manufacturer Tymphany against stalwarts Sonos and Apple's AirPlay; those speakers aren't expected to ship until the summer of 2013 at the earliest, but then the Olive ONE team doesn't believe its system will be ready for shipping until July next year.