Old Versions Of iOS Can Now Download Compatible Apps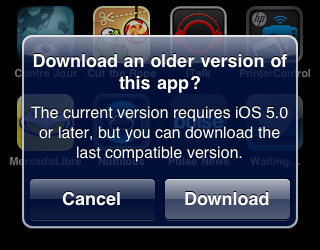 It's not uncommon at all for some people to be running a version of their smartphone operating system that is very old. Apple doesn't have as big a problem with users running old versions of the operating system that other companies, but a number of users don't bother updating their OS to the latest version. Not having the latest version of the operating system used to mean you could be unable to download some applications available on the App Store.
Apple has reportedly made an interesting change ahead of the release of iOS 7. The new version of the Apple operating system is going to be available on September 18. The change will let iPhone users running older versions of iOS download of applications that will be compatible with the older operating systems.
This marks the first time that an iPhone user running something like iOS 5 will be able to download the app that supports whatever version of the operating system they are using. That means even if the latest version of the application on the App Store supports iOS 7, the user will be able to download a version specific to their device.
It's worth noting that Apple hasn't officially announced this feature yet. The image showing the older version of the app offered for download that you see here was leaked online. Apple is quite different from smartphone makers that use Android. While Android is highly fragmented with many different versions in heavy use, the vast majority of iPhone users are on the latest version of iOS according to Apple. Apple previously stated that 90% of iOS device users run the newest version of the operating system.
SOURCE: TheNextWeb