OCZ's High-Speed Data Link Interface Meant to Accelerate the Progression of Solid State Storage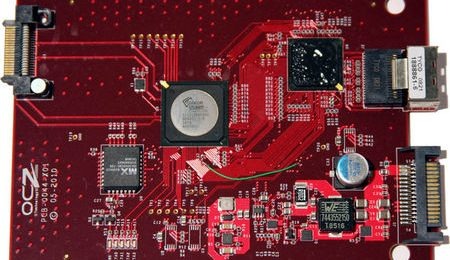 While OCZ Technology is busy releasing new Solid State Drives (SSD), it looks like the company isn't all that happy with the current state of Solid State Storage. With that in mind, they have announced today the unveiling of their proprietary interface, called High-Speed Data Link, or HSDL. OCZ says that they are unsatisfied with the current interface options, and hope to change that with their brand new HSDL.
The idea behind the High-Speed Data Link interface is to remove the I/O bottleneck that happens with other SSD options. In turn, the new proprietary interface is meant to make the SSD technology work at its full potential, and no longer be hindered by day-to-day usage. The ultimate goal, OCZ says, is that they hope to enhance high performance computing, as well as I/O-intensive infrastructures.
With the new HSDL interface, OCZ says that they're capable of running up to 20Gbps of data bandwidth per channel, which they say out-performs interfaces such as Serial ATA (SATA), as well as Serial Attached SCSI (SAS). Considering the latter offer only 3Gbps/6Gbps respectively, OCZ seems pretty accurate in that estimate. And, to make it better, OCZ has made it possible for the HSDL interface to be linked together, gaining a maximum bandwidth.
This new interface is set to ship with OCZ's new IBIS Series, a new SSD line-up. The company is currently working with platform partners to make the new standard widely adopted. Check out the full press release below for any more information.
Press Release
OCZ Technology Introduces the High-Speed Data Link (HSDL) Interface to Revolutionize Solid-State Storage Performance

New OCZ HSDL Eliminates the Bandwidth-Saturation of Current Interfaces to Deliver Unparalleled SSD Performance for Both Enterprise and Consumer Clients

SAN JOSE, CA—September 29, 2010— OCZ Technology Group, Inc. (Nasdaq:OCZ), a leading provider of high-performance solid-state drives (SSDs) and memory modules for computing devices and systems, has unveiled a proprietary interface called "High-Speed Data Link" (HSDL) to accelerate the progression of solid-state storage. Unsatisfied with existing interface options, OCZ developed HSDL to eliminate I/O bottlenecks and enable SSD technology to operate at its full potential. With this initiative, OCZ aims to enhance high performance computing (HPC) and I/O-intensive infrastructures for its clients.

"Solid State Drive throughput speeds are increasing at a rate in excess of what current storage buses can support, and as a result, storage protocols are quickly becoming the bottleneck to storage subsystem performance," said Ryan Petersen, CEO of OCZ Technology. "Designed for both high-performance computing and enterprise storage applications, our new High Speed Data Link interface addresses this issue and revolutionizes data storage by significantly outperforming other current interfaces delivering performance at levels that saturate most CPU busses."

Capable of running up to 20Gbps of data bandwidth per channel, HSDL significantly outperforms existing storage interfaces such as Serial ATA (SATA) and Serial Attached SCSI (SAS) which only offer 3Gbps/6Gbps data rates. Furthermore, multiple HSDL channels can be combined for maximum bandwidth to increase productivity levels in both consumer and enterprise applications.

OCZ's new HSDL interface is the driving force behind the "OCZ IBIS," an upcoming 3.5-inch SSD to be launched under the new HSDL initiative. As the first solution to make use of the HSDL interface, the OCZ IBIS Series has the potential to redefine storage and surpass the limitations currently placed on hard drives as well as other SSDs.

HSDL is an open standard and allows other devices to leverage this high-speed internal interconnect technology. OCZ is diligently working with platform partners for mass HSDL adoption, and in the meantime, single port adapter cards will ship with every HSDL solid-state drive such as the IBIS Series, while quad port cards for multiple drive configurations will also be available to clients seeking even greater storage and bandwidth.