OCZ's Onyx 2 Series SSD Announced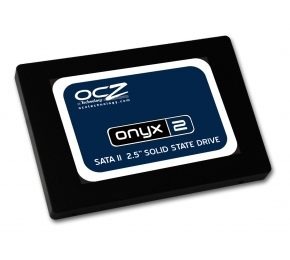 Today, OCZ Technology Group announced their brand new Onyx 2 Series of Solid State Drives (SSD), created primarily to bring new options to line-up, and perhaps even drop the prices of Solid State Drives out there in the market. The OCZ Onyx 2 Series is designed for mainstream desktops and mobile systems, offering the same faster speeds and more durable options, but wrapped up in a far more cost-effective package.
OCZ says that the new Onyx 2 Series offers a lower price per gigabyte than the other SSDs on the market, and say that they're pricing it as such so that everyone can get in on this game-changing technology. Features wise, the Onyx 2 Series features a SandForce-driven 270MB/s write speeds. It can also reach up to 10,000 random write IOPS (4k aligned).
The Onyx 2 Series offers two capacities: 120GB and 240GB. And since the drives features no moving parts, and a more durable housing, OCZ says that the Onyx 2 Series is a perfect option for new SSD adopters, for those looking to get away from the traditional hard drives out there. And OCZ is offering a 2-year warranty. The full press release is below for your browsing pleasure.
Press Release
SAN JOSE, CA—September 27, 2010—OCZ Technology Group, Inc. (Nasdaq:OCZ), a leading provider of high-performance solid-state drives (SSDs) and memory modules for computing devices and systems, has unveiled the OCZ Onyx 2 Series, a 2.5 inch SSD with superior affordability designed for mainstream desktops and mobile systems. Offering a faster and more durable alternative to traditional hard drives in a cost-efficient solution, the Onyx 2 delivers excellent performance with lower price per gigabyte than that of other comparable drives on the market.

"While we are constantly looking to push the envelope in solid state drive performance, we are also dedicated to making the technology more affordable to consumers," said Ryan Petersen, CEO of the OCZ Technology Group. "The new Onyx 2 Series SSDs give customers the very best of both worlds when it comes to performance and value, and they are an ideal solution for mobile and desktop users that want to take advantage of all the benefits that SSDs offer over traditional rotational based drives."

OCZ continues to expand its consumer SSD lineup with the goals of not only delivering cutting-edge performance, but also of making SSDs more affordable to help foster adoption of this game-changing technology. Designed to offer the best of both worlds, the SandForce-driven Onyx 2 delivers 270MB/s read, 265MB/s write, and up to 10,000 random write IOPS (4k aligned), without the higher costs normally associated with similar multi-level cell (MLC)-based solutions. The Onyx 2 SSD delivers an enhanced computing experience for netbooks, laptops, and home desktops with faster application loading, snappier data access, shorter boot-ups, and longer battery life and feature TRIM support as the ultimate Windows 7 upgrade.

OCZ Onyx 2 SSDs feature a durable yet lightweight housing, and because they have no moving parts, they are more rugged than conventional hard discs. Available in ample 120GB and 240GB capacities, the Onyx 2 is an ideal hard drive replacement for first-time SSD upgraders in need of primary laptop storage or a spacious application and OS boot drive. Designed for superior reliability, Onyx 2 Series is backed by a 2-year warranty and renowned technical support.