OCZ Vertex Series Mac Edition SSD for MacBooks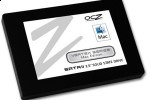 OCZ Vertex Series has been getting the thumbs up by many reviewers for its speed and non-shuttering operation. OCZ has announced its new Vertex series SSD targeted towards Mac systems with the fullest compatibility for MacBooks family.
The Vertex series SSD feature up to 240MB/s sequential read and 170MB/s sequential write with 64MB on-board cache. SSD drives generally provide better battery life and generates less heat during operation.
OCZ Vertex Mac Edition uses the same Indilinx Barefoot controller as the PC version and it is available in 30GB, 60GB, 120GB, and 250GB capacities.