OCZ debuts new Z-Drive PCI-E SSD line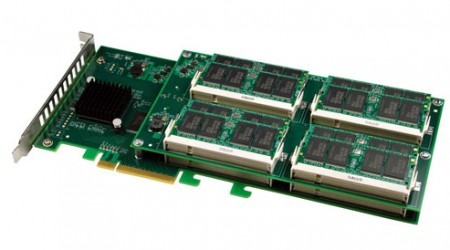 OCZ offers numerous SSDs that hit different performance and price categories. The most reasonably priced of its offerings is the Onyx series that debuted in March for under $100. OCZ has announced new line of SSDs that skip the standard SATA interface in favor of using the PCI Express slot on the mainboard to bypass any potential bottlenecks in performance.
The new line of SSDs is called the Z-Drive R2 family. There are three drives in the family that all use MLC NAND flash. The family of SSDs are bootable, have eight PCI-E lanes each, and can be configured for 8-way RAID 0.
Storage capacity for the line ranges form 256GB to 2TB. The drives are all aimed at business and enterprise use and OCZ will customize firmware for the client to get the performance they need from the drives. The line includes the Z-Drive R2 p88, p84, and m84 drives. The p88 has eight SATA controllers while the other two drives offer four SATA controllers. Pricing is unknown at this time.