Oculus Santa Cruz: Untethered VR in 2018 with these great controllers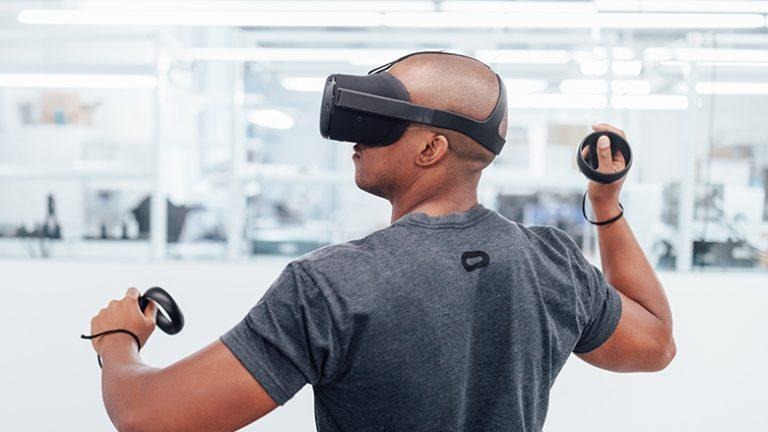 Oculus may have a more affordable Oculus Go in the pipeline, but true virtual reality fans know what they really want: a full VR headset with desktop PC power. That's the idea behind Oculus Santa Cruz, an untethered VR experience that promises the potency and graphical intensity of an Oculus Rift, but without the wires. The company showed off the latest iteration at Oculus Connect 4 today, its annual developer conference.
Gone is the clunky, pieced-together prototype that Oculus first demonstrated last year. That was clearly a Rift with a compact PC grafted onto the back of the headset: functional, but hardly elegant in the process.
The new Project Santa Cruz headset looks far more streamlined. All of the processing components have been integrated into the headset itself, despite Oculus promising full inside-out tracking. It's unclear what processor and graphics hardware the company is using at this stage.
What hardware we know you won't need, though, is any sort of sensor beacon in the room you're using Santa Cruz. Unlike, say, HTC VIVE, which demands you install positioning beacons into the corners of your room, Oculus' new system supports full inside-out tracking. The cameras on the headset itself are used to locate it within 3D space.
Another part of the magic comes down to the controller. The new Santa Cruz controllers are the handiwork of the same team that developed Oculus Touch, and come complete with both a grip button and a trigger. There's also a touch pad, a back button, and home button, together with six degree-of-freedom tracking.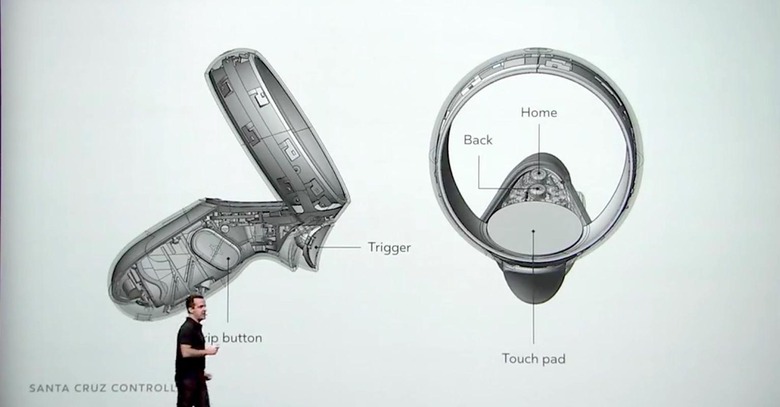 Tiny LEDs embedded in the outside are used, but this time they're infrared rather than visible light. The same sensors that the headset uses – four ultra-wide sensors positioned at the corners of the Santa Cruz headset itself – track both head movement and controller movement. They're pointed slightly beyond the usual VR field of view, so as to maximize coverage and increase the overall tracking volume.
That means more freedom of movement with your hands, Head of Oculus VR Hugo Barra says. It also keeps the tracking smooth, and allows for objects at the periphery of the field of view to be interacted with.
There's plenty of work to be done, mind, with both the headset and the controllers still yet to be finalized. That should happen in the coming months. "We're planning to put this in the hands of developers next year," Barra promised.