Ocosmos OSC1 Oak Trail Tablet Detailed: Due Q1 2011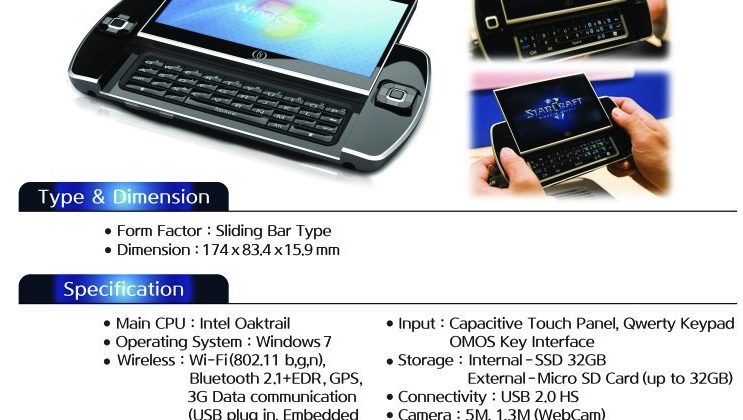 Details on the Ocosmos OSC1 UMPC which Intel briefly flashed at IDF 2010 earlier this year have emerged, set to be one of the first Oak Trail devices assuming the company can find carriers willing to take it on. According to the spec sheet, the OSC1 will have either a 1.5GHz or 1.9GHz Oak Trail CPU running Windows 7, 400MHz GPU with HD decoding, WiFi b/g/n, Bluetooth 2.1+EDR, and a 5-inch capacitive touchscreen running at 1024 x 768.
There are also dual cameras – 5-megapixels on the back, 1.3-megapixels on the front – and a QWERTY keyboard revealed when you slide the display up. Connectivity includes HDMI, USB 2.0 (with host support), a 3.5mm headphone socket and a microSD card slot to augment the 32GB internal SSD. The whole thing measures in at 174 x 83.4 x 15.9 mm.
Ocosmos apparently reckons the OSC1 will manage 10hrs of runtime from a full charge, though UMPC Portal expects that to be more like 3hrs with a regular battery or 5-7hrs if they fit a significantly larger power pack. The company is targeting a Q1 2011 launch and thinks AT&T or Korea Telecoms would be ideal carrier partners, but aren't saying anything on pricing.
[via UMPC Portal]