Oakley Airwave 1.5 HUD goggles add Garmin camera support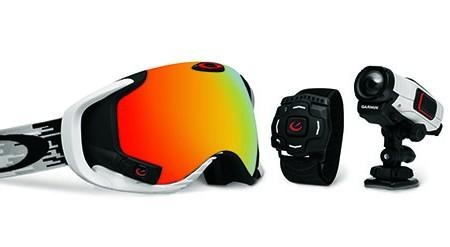 Oakley's Airwave HUD goggles have been refreshed to bring in support for Garmin's VIRB Elite action camera, adding wireless pairing between the two devices for easy integration. Called the Airwave 1.5 goggles, this updated pair from Oakley uses Garmin's action cam to bring a live video feed to the HUD and doubles as a remote for controlling the camera (and it's glove friendly, Oakley promises). By utilizing the camera's GPS sensor, the goggles can also show location information, fleshing out the data available to wearers.
The Airwave goggles feature a heads-up display that appears the equivalent of a 14-inch screen being looked at about 5ft. away from the user. Through it a variety of information is dished up, including buddy tracking for keeping track of fellow Airwave users, jump analytics, and vertical jump stats.
There's a trip viewer that allows users to toggle between their trip data, including things like their maximum speed and their max data for an entire day. GPS is used to track speed and location, the latter of which can be viewed as a pinpoint on a map. There's both music and smartphone control, with support being available for both Android and iOS.
The newest pair of goggles looks to be the same as the original pair, with the addition of Garmin support, boosted graphics, and better battery life. The goggles are available now from Oakley's website for $649 USD, while the Garmin action camera is obviously available separately from the maker.
SOURCE: Transworld Business