O2 Palm Pre Plus and Pixi Plus due May 28th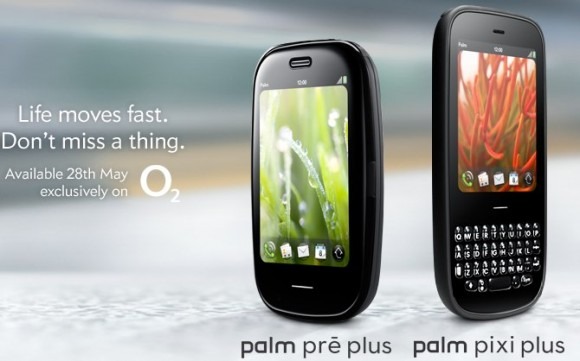 UK carrier O2 and Palm have announced that the Pre Plus and Pixi Plus will be arriving on the network come May 28th.  The handsets – which will be the same as their US brethren, only supporting O2's UMTS/HSPA network – will be priced from free, tariff depending.  Full details after the cut.
The Palm Pre Plus has 16GB of internal storage, a slide-out QWERTY thumbboard, WiFi b/g, Bluetooth and GPS, together with Palm's own webOS operating system and Synergy email, calendar and social network integration.  The Pixi Plus, meanwhile, has much the same functionality but half the internal storage, a candybar form-factor and a slightly smaller screen.
Both will be supplied complete with the Touchstone back panel, though the inductive charger itself will be offered separately.  They'll go on sale May 28th online and in O2 stores.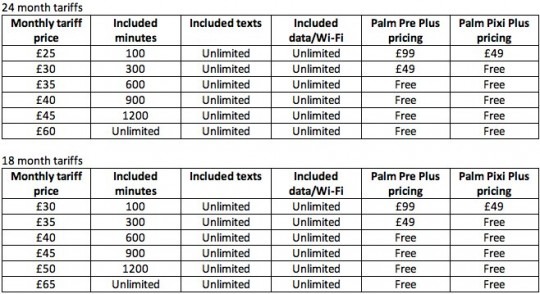 Press Release:
Palm Pre Plus and Pixi Plus Available Soon for O2 Customers in the UK

LONDON, England, 19 May, 2010 – Palm, Inc. (NASDAQ: PALM) today announced that the Palm® Pre™ Plus and Palm Pixi™ Plus phones will be available in the UK on O2 from 28 May. They will be available from free, depending on tariff, in all O2 stores and online at www.o2.co.uk.

"We are excited to bring Pre Plus and Pixi Plus to the market for O2 customers," said Jon Rubinstein, Palm chairman and chief executive officer. "With the choice of these two new Palm webOS phones, customers across the UK can stay connected, so they never miss a thing."

With a slider keyboard, a larger touchscreen and a high-performance processor, Pre Plus is Palm's full-featured Palm webOS™ phone. It's designed for people who want an easy-to-use phone with advanced features to help manage the different aspects of their lives, both personal and professional. The keyboard makes for quick and easy typing, while the unique gesture area provides a sleek look and intuitive navigation. Customers also get 16GB(1) of storage (~15GB user available) for applications and media. Pre Plus comes with the Palm Touchstone™ Back Cover, so it's compatible out of the box with the revolutionary inductive Touchstone Charging Dock (sold separately).

As Palm's thinnest phone to date, Pixi Plus fits easily in your hand or pocket and offers a host of powerful features. It's great for social communicators and first-time smartphone buyers who want an affordable phone with a full QWERTY keyboard instantly accessible for messaging and web content. With the color Palm Pixi Touchstone Back Covers and the Palm Pixi Artist Series Back Covers, which are compatible with the Touchstone Charging Dock, you can easily switch covers to suit your mood and style (all will be sold separately at www.palm.com/uk).

Pre Plus and Pixi Plus showcase the defining features of Palm webOS, including the ability to run multiple applications simultaneously and easily move between them; the power of Palm Synergy™, which brings customers' information from the many places it resides into a single, more comprehensive view; unobtrusive notifications; and universal search.(2) Palm webOS also has a unique model of over-the-air software updates that delivers new features and performance improvements directly to a user's phone. Past updates have included support for 3D games on Pre Plus and video recording, allowing webOS customers to use their phones in fun, new ways.

A significant advantage of Palm webOS applications is that they can be integrated into the core webOS experience, including linked contacts, layered calendars, notifications and GPS, providing a rich catalog of innovative and unique offerings for Palm webOS users. The growing Palm App Catalog offers some of the best apps in the market, such as rich 3D games like "Need for Speed™ Undercover" and "James Cameron's Avatar™." E-commerce is available for the Palm App Catalog for Europe, allowing end users to purchase applications using a credit or debit card.

Pre Plus and Pixi Plus include the following features and specifications:

Palm Synergy, a key feature of Palm webOS that brings your information from all the places it resides – including Outlook(3), Google, Facebook, Yahoo! and LinkedIn – into one logical view that links your contacts and calendars, so accessing them is easier than ever

The ability to run multiple applications simultaneously and easily move between them

Unobtrusive notifications

Universal search

Over-the-air software updates delivered directly to a user's phone

High-quality applications from the Palm App Catalog

High-speed connectivity

Gesture area, which enables simple, intuitive gestures for navigation

Full QWERTY keyboard

High-performance, desktop-class web browser

Wi-Fi 802.11 b/g

Integrated GPS(4)

Robust messaging support (combining IM, SMS and MMS capabilities)

Multimedia options, including music, photos, video recording and playback, a camera with LED flash and a standard 3.5mm headset jack

Email, including EAS (for access to corporate Microsoft Exchange servers) and personal email support (Google Mail push, Yahoo!, POP3, IMAP)

Bluetooth® 2.1 + EDR with A2DP stereo Bluetooth support

USB mass storage mode

Charger/microUSB connector with USB 2.0 Hi-Speed

Proximity sensor, which automatically disables the touchscreen and turns off the display whenever you put the phone up to your ear

Light sensor, which reduces power usage by dimming the display if the ambient light is dark

Accelerometer, which automatically orients web pages and photos to your perspective

Ringer switch, which easily silences the device with one touch

Removable, rechargeable battery

A complete list of features and specifications for each phone is available at www.palm.com/uk

Availability and Pricing

The Pre Plus and Pixi Plus will be available from May 28 on O2's range of smartphone tariffs which all offer unlimited data(5), unlimited public Wi-Fi at The Cloud and BT Openzone and unlimited texts as well as a range of included minutes to suit every pocket.